Smart Money Sees China Bear Market Lasting: JPMorgan Survey 
(Bloomberg) -- China's institutional investors aren't counting on recouping this year's equity losses any time soon, according to a JPMorgan Asset Management survey last month.
While the majority of the 200 respondents said onshore stocks will rise in the next 12 months, some 80 percent predict gains won't exceed 15 percent. That's not much of a rebound when you consider the CSI 300 Index is down 18 percent this year in what's set to be its worst annual performance since 2011. Almost a third called for further declines, according to the poll of fund distributors in Beijing and Shanghai.
About $2.5 trillion has been wiped off the value of mainland shares since January, weighed by risks borne out of the country's drive to reduce leverage, namely rising defaults and tightening credit conditions. While that policy's been put on hold, caution still prevails amid mounting evidence the economy is slowing. U.S. tariffs on Chinese goods and cooling global trade haven't helped either.
By comparison, the MSCI All-Country World Index is up 1.7 percent in 2018, while stocks in countries like India, Norway or the U.S. are near all-time highs. Chinese stocks fell for a fifth consecutive day Monday.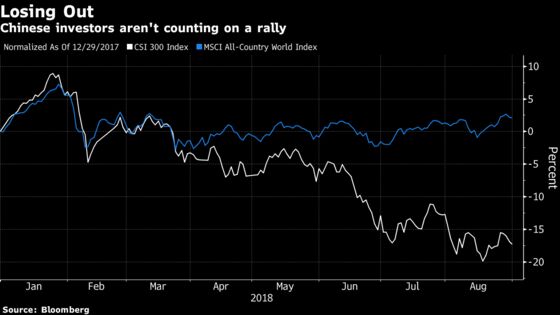 Chinese investors are less optimistic about prospective returns in the rest of the world: only 8 percent say global equities will rise more than 15 percent in the next 12 months, according to the JPMorgan survey.