Philippine Stock Rebound Faces Skepticism Ahead of CPI Data
(Bloomberg) -- Philippine inflation data this week may help determine whether one of Asia's worst performing stock markets can continue its road to recovery.
Traders at AB Capital and Investment Corp. and Rizal Commercial Banking Corp. are warning that the Philippine Stock Exchange Index could face a bout of profit-taking, just as a tentative rebound has seen it rise more than 12 percent from a 17-month low in June. Among their concerns are faster inflation, a falling peso and slowing economic growth.
Investors are waiting to see if a report on August inflation due Wednesday supports a view that a record $1.37 billion exodus of foreign funds this year has made Philippine equity valuations cheap. The report may also signal whether the central bank's rate hikes have had an impact on price rises, which are running at the fastest pace in nine years. An increase in inflation was among the concerns that knocked the stocks down 16 percent in the first half of 2018, the worst performance in Asia.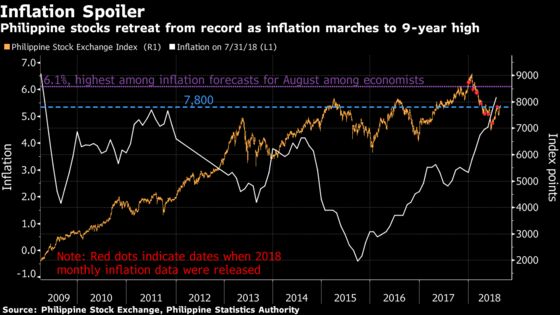 "Until the market gets a better sense of macro-economic conditions, it's still possible to get blindsided by unfavorable numbers," said Gerard Abad, who helps manage $355 million as chief investment officer at AB Capital in Manila. "Given that there are still risks moving forward it's prudent to pocket some gains and keep some cash."
Just in case there's a selloff, Abad has been shifting some money from the AB Capital Equity Fund, up 12.5 percent this quarter, to time deposits. The PSEi could slump 11 percent based on Monday's close to 7,000 this year should inflation exceed 6 percent and third-quarter economic growth drop below 6 percent, he said.
Inflation is seen accelerating to 5.9 percent in August from July's 5.7 percent, according to the median of a Bloomberg survey of economists. The benchmark stock index rose 0.6 percent to 7,881.82 at the close Tuesday, bucking a decline in the MSCI Asia Pacific Index.
Steven Ko, a trader at Rizal Bank, said the national gauge may sink below its support at 7,500 should the data show that inflation exceeded 6 percent, but could rebound to 8,200 by year-end. He has been selling outperforming stocks in recent weeks and is investing in either cash or shares that have lagged the benchmark's 9.6 percent rally this quarter.
"The market has gone up too fast, too soon," said Ko. But, "there are still large undervalued names out there, while the banks are providing some good value."
While cautious about the market's prospects, AB Capital's Abad said he is also investing in larger capitalized companies that may rise if foreign funds return to the market. He's also looking at stocks outside of the benchmark index such as San Miguel Food and Beverage Inc., his biggest holding.
Still, he doesn't think valuations in general are attractive in the Philippines. He points out that the ratio of the nation's stock prices to estimated earnings is among the highest in Asia, even though it's about one standard deviation below the five-year average. Better earnings visibility is needed for the stock market to extend its rally, he said.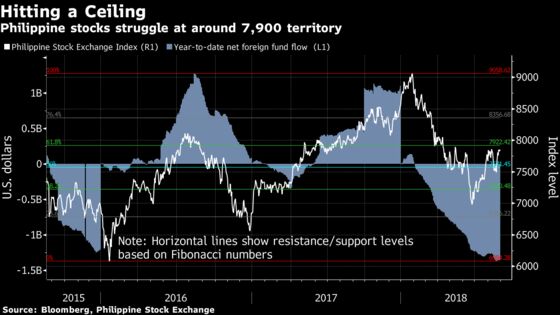 "It's nice to be hopeful that the market will breach 8,000 but investors shouldn't be faulted for cashing in some of their gains," Abad said. "Hopefully, we get better corporate earnings because valuations aren't really cheap."
Wilson Sy, a fund manager at Philequity Management Inc., said the benchmark could break the resistance at 8,000 but it will require a stable peso, a resolution of the global trade war and a corporate earnings growth recovery from a "dismal" 4.3 percent expansion in the first half. Otherwise, a correction to as low as 7,400 is possible. He has selectively added to his holdings, preferring stocks that reported better-than-expected earnings.
"It's still fraught with danger and risks but we are already on the slow road to recovery" he said.