Italian Bonds Get a Respite as Fitch Affirms Credit Rating
(Bloomberg) -- Italy's bonds rose after Fitch Ratings maintained the nation's rating and the government vowed not to breach the European Union's spending cap.
Two-year notes led the rally after Fitch left the sovereign rating intact at BBB, while lowering the outlook to negative from stable, a decision that was already priced in by the markets. Italy's budget this month will outline deficit plans touching 3 percent without breaching it, Ansa news agency cited Deputy Prime Minister Matteo Salvini as saying over the weekend. Separately, Finance Minister Giovanni Tria said that the budget will calm investor nerves when it's unveiled.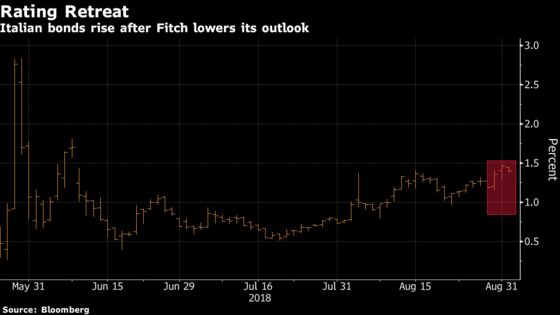 "There is some minor relief given Fitch left their rating unchanged," said Richard Kelly, head of global strategy at Toronto-Dominion Bank. "But there is still plenty of debate to come on the budget over the next month which will keep BTPs under stress."
Italy's two-year yield dropped seven basis points to 1.39 percent, after climbing to 1.48 percent Friday, the highest since June 8. The yield jumped more than 70 basis points last month. The nation's 10-year bond yield fell five basis points to 3.19 percent.
The government is due to set new public-finance and economic-growth targets by Sept. 27 and submit a draft budget to the European Commission by Oct. 15. The plans and whether the populist administration will break EU spending limits have been in focus all summer, pushing up Italian bond yields and making the FTSE MIB equity benchmark the second-worst performing western European stock index in 2018.
The FTSE MIB halted a two-day decline as investors gave the populist administration the benefit of the doubt. Still, the gauge held close to the lowest level since April 2017. Analysts have said the index will remain volatile until there is further clarity on the budget. Italy's other deputy prime minister, Luigi Di Maio, doubled down on campaign pledges, according to a report by Corriere della Sera.
"The comments from Salvini and Tria over the weekend were quite helpful to sentiment," said Antoine Bouvet, an interest-rates strategist at Mizuho International Plc. "Basically the politician with the greatest clout is saying Italy will remain within the 3 percent deficit band."