Vacation Is Over and Stocks Keep Playing Havoc With Predictions
(Bloomberg) -- OK, Wall Street, back to work. The stock market crash you feared while guiltily snoozing through August on the beach may not have materialized but there are a few things you need to know about.
First the good news. While firms from Goldman Sachs to Voya Asset Management warned everyone in July about the risk of late-summer turbulence and shrinking liquidity, peace has prevailed in the U.S. In fact, with the S&P 500 never swinging more than 0.8 percent on any given day, it was by some measures the calmest August since 1967.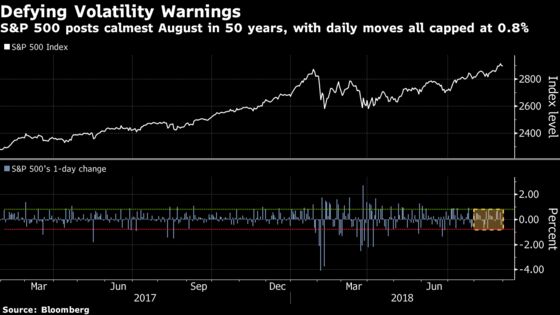 American stocks have now risen in eight of the last nine weeks and closed at an all-time high on Wednesday. Up 8.5 percent year to date, the S&P 500 is less than 2 percentage points behind its gain at this time last year. Credit surging earnings and U.S. gross domestic product that grew by more than 4 percent in the second quarter.
"One of the lessons that we all learned over and over again is try to cut through the noise and get to the fundamental driver of the stock market," said Rich Weiss, chief investment officer and senior portfolio manager of multi-asset strategies at American Century Investments. "And the major driver has been, is, and will continue to be the strength of our economy."
Listen to Bloomberg reporters discuss the week in markets.
Prolonging the good times into September will require navigating a calendar full of pitfalls. Of primary concern are emerging markets, where currency and other assets are weakening and some say contagion will worsen. The big risk is on the trade front with President Donald Trump said to want to move ahead with a plan to impose tariffs on $200 billion of Chinese imports as soon as next week.
Tech stocks, this year's best-performing industry, will be in the spotlight, as executives from Twitter, Facebook and Google's parent Alphabet begin testimony to Congress on Wednesday while Trump blasts about antitrust. Friday's monthly payrolls data precedes a policy meeting by Federal Reserve later in the month, when the central bank is expected to raise interest rates for an eighth time since 2015.
All are reasons to stay alert. Keith Parker, a strategist at UBS Group AG, predicted a drop in shares in September while Goldman Sachs's Christian Mueller-Glissman recommended investors buy short-dated S&P 500 put spreads to hedge correction risk.
"We see some catalysts for a pick-up in volatility," Mueller-Glissman wrote in a note this week. "Compared with last year's low vol regime, the macro backdrop is less favorable, with global growth momentum negative, monetary policy tightening and more uncertainty on economic policy."
August has been a study in contrasts, another month in which calm persisted in the U.S. despite jarring news flow. Daily volume dropped to an average of 6.1 billion shares, the second lowest since last October. Negative headlines flashed, from an escalation in trade tensions to emerging market turmoil to continued political chaos in Washington. Yet none was enough to rock the market out of its slumber.
Along the way, a number of milestones were tripped. For the first time ever, the S&P 500 surpassed 2,900 and the Nasdaq Composite crossed 8,000. The rally that started in March 2009 notched its 3,462 day, by some measures overtaking the dot-com era as the longest bull market in history.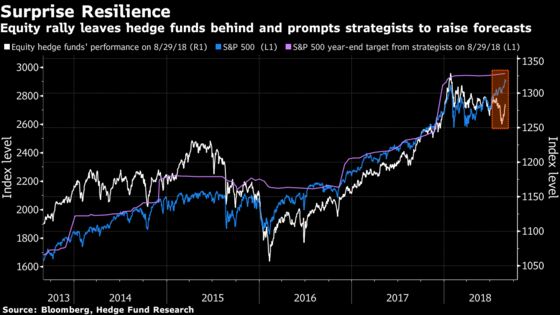 Stocks extended gains for a fifth month. The Nasdaq Composite jumped 5.7 percent in August while the Dow Jones Industrial Average added 2.2 percent. The Cboe Volatility Index, or VIX, averaged 12.6, the lowest since January.
Why do stocks defy Wall Street's warnings? Maybe it's because investors cut risk heading into a month whose performance over the last two decades has been the calendar's worst. So the news was bad, but money managers were prepared for it. Take hedge funds for instance, which trimmed their equity exposure to the lowest of the year.
Another theory is that rather than posing an impediment to gains the U.S., the selloff in emerging markets and Trump's battle to reorder global trade are just more reasons to buy America. After all, earnings among S&P 500 companies soared at a clip of 24 percent for two straight quarters and corporate buybacks are surging.
More reason for optimism. Since the bull market began in 2009, there has yet to be a year in which the S&P 500 didn't rise after Labor Day. The gains have averaged 7.2 percent annually, and have ranged between 1.4 percent in 2012 and 13.9 percent in 2010.
"The U.S. market is leading," Rod Smyth, director of investments at Riverfront Investment Group said on Bloomberg TV. "One of the things that we have done is we are pulling more money into the U.S. as the America First agenda becomes clearer. "
Whatever reason behind the resilience, persistent equity gains are forcing strategists to raise their forecasts. Michael Purves at Weeden & Co. and Maneesh Deshpande at Barclays Plc both recently increased year-end predictions to 3,000. The S&P 500 last closed at 2,902.
For money managers, the market calm is likely to lure them back to stocks, according to Jeremy Klein, chief market strategist at FBN Securities Inc.
"The lack of volatility will encourage institutions, which as a group have struggled to keep pace with the rally, to plow their excess cash into shares," he said. "Moving into the fall will only increase the urgency among fund managers to boost their risk as December 31 starts to loom on the horizon."