All-in Stock Bets, Busy Yuan, Tencent: A Week in China's Markets
(Bloomberg) -- The tug-of-war between China's equity bulls and bears continues, authorities roll out the red carpet for foreign capital, and we note two new records for the yuan. Here's a roundup of what we've been talking about in China markets this week.
The week in stocks started with traders encouraged by more signs of currency stability and the prospect of better liquidity -- the lack of both has really hit sentiment this year. The rebound didn't last though, a trend that's surely becoming frustrating for those long-term buyers trying to time the bottom in mainland markets. Some investors are getting ready for extreme positioning one way or the other, either going all in on stocks or riding out the volatility in cash.
Burned by multiple false rebounds in recent months, the nation's more than 14 million day traders aren't convinced: average daily turnover was once again low this week, wrapping up what's been the quietest month of trading the onshore market has seen in four years.
Currency traders are grappling with wilder swings from China than Europe for the first time ever, a symptom of China's more market-driven approach to managing its currency, strategists say. The offshore yuan is certainly getting a lot of attention as more and more people want to bet on it. Who can blame them: the yuan has this year had the honor of being one of the world's best and worst-performing major currencies. It was at one point even considered a haven -- imagine that. Average daily volume in dollar-offshore yuan jumped to a record $1.7 billion in July on Cboe Global Markets's trading platform.
Read more:
Volatility's really picking up offshore
Red carpet
China wants foreigners to get more involved in its onshore financial markets. This week policy makers said overseas institutions would be exempt from paying certain taxes on their bond investments, and they can also make big block trades through Hong Kong if they want to. On the equity side, MSCI Inc. is about to include more yuan-denominated shares in its global benchmarks, a change which will be effective after Friday's close and will probably attract more inflows than the first round.
Iron-ore derivatives is another market that's attracting international interest. China's top exchange for such instruments said 56 foreign accounts are actively trading the commodity since it moved to open up yuan-priced contracts to overseas investors. A slow but positive start to a market that's very much dominated by retail speculators.
Read more:
Foreign bond buyers are exempt from taxes
Iron ore derivatives are proving popular
Bank spotlight
Risk is the word that you heard from Chinese banks this earnings season. Here's a stat: China's six largest lenders, which control a combined $16 trillion of assets, mentioned the word almost 1,900 times in their first-half announcements. It's not all talk though: bad debt ratios actually fell despite slower economic growth and a higher rate of corporate defaults. Earnings were relatively stable but the stocks -- valuations of which are low at the moment -- are still a hard sell when you factor in the impact from the weaker economy, loose monetary policy and a push to lend out to riskier borrowers.
Tencent's problems pile up
Owning Tencent Holdings Ltd. must be getting frustrating for those loyal investors who stuck by their shares throughout this year's rout. Here's a familiar story: the shares slump on some negative news and analysts rush to say buy, calling it an excellent time to load up on a stock that's long been among Hong Kong's most loved and owned. But the reality is Tencent keeps dropping. This time the culprit was yet another regulatory hurdle in China, where authorities want to limit the amount of games that children play.
Things might not be so bad for Hong Kong's equity market, even though Tencent is one of the biggest stocks on the Hang Seng Index. The benchmark rose above what's been a key support level since early 2016 -- maybe we're about to get a turnaround.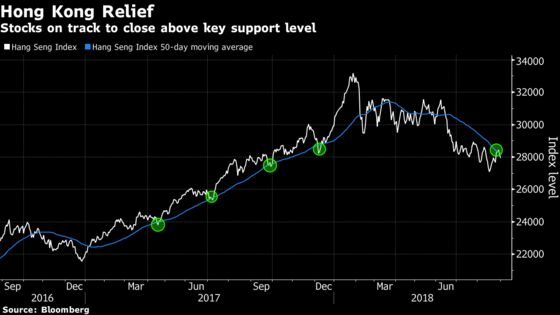 Here's what else caught our eye.
Donald Trump is looking at whether China's manipulating the yuan.
Another round of U.S. tariffs on Chinese goods is looking likely.
Fosun International Ltd. is eyeing another European deal.
Hong Kong-based broker returns to Pakistan after two decades.
The world's third most-shorted stock is a Chinese insurer.
Chinese consumers aren't buying Samsonite's luggage.
August has been an ugly month for emerging markets.
Bondholders don't stand much of a chance of getting their money back.
China's economy weakened again in August.
A Chinese superpower looks nothing like the U.S.