Morgan Stanley Says a Rolling Bear Market Looms for Growth Shares
(Bloomberg) -- Some of the biggest winners of America's epic bull market in equities could be headed for trouble, if analysts are correct.
Companies that consistently post high earnings, so-called growth stocks, have been powering ahead of value stocks as their more cheaply priced brethren lag behind in the rally. In fact, the price of the S&P 500 Value Index is nearing the lowest since 2000 relative to its growth counterpart.
But while a fresh low would be a milestone in the saga of whipsawing performance between the two factors, analysts reckon the drama isn't over. Markets have disproportionately sold off value stocks, meaning the next leg down is likely to occur in growth shares, Morgan Stanley said this week.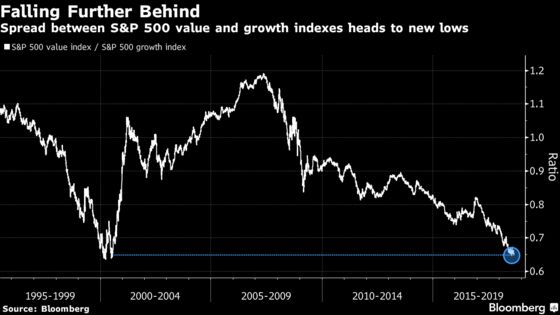 "The rolling bear market that began in January has unfinished business with U.S. growth," equity strategists including Mike Wilson wrote in a Monday note.
Even if the business outlook significantly improves, value will be the main beneficiary because it has the most upside, the New York-based bank reckons.
Cheaper shares have already posted a few head fakes this year. After a decline hammered equity quant funds, there was a glimmer of hope in early August amid earnings disappointment from some tech companies -- classic growth stocks.
Yet value is now getting beaten down again, and is the worst performing U.S. factor among 10 tracked by Bloomberg over the past month.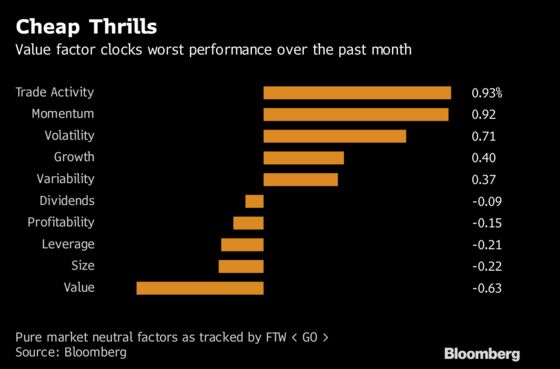 Considering the way the rest of the earnings season played out, especially for smaller companies, the recent rebound of growth stocks is unsurprising. EPS growth in small-cap stocks was 12 percentage points higher for growth shares than value, said Steven DeSanctis, a U.S. equity strategist at Jefferies.
The value factor bucket also contains a lot of financial companies, according to Macro Risk Advisor's Mayank Seksaria. Therefore the recent flattening of the Treasury yield curve, which tends to limit net interest margins for banks, is partially responsible for the slump in discounted shares, he said.
Meanwhile, cheaper stocks have also vastly unperformed momentum companies. The extreme disparity means the relationship is likely to revert to a more average level, Dennis Debusschere, head of portfolio strategy at Evercore ISI, wrote in a Tuesday note.
"The relative performance of traditional value and price momentum is at its lowest range since mid-2016," he said. "Price momentum returns could be peaking."