Turkey Puts Pimco and BlackRock on Wounded EM Bond-Fund List
(Bloomberg) -- Turkey's financial meltdown left few emerging-market money managers unscathed in August, and investors won't be buying any time soon, Vanguard Asset Management Ltd., BlackRock Inc. and PineBridge Investments warn.
The Turkish rout spread rapidly to other developing nations, bringing losses of more than 5 percent in three weeks for funds owned by BlackRock, Pacific Investment Management Co. and others. Local-currency bond funds fell an average of 2.1 percent in August, the worst performance globally. U.S. junk debt, meanwhile, handed investors a 0.8 percent return.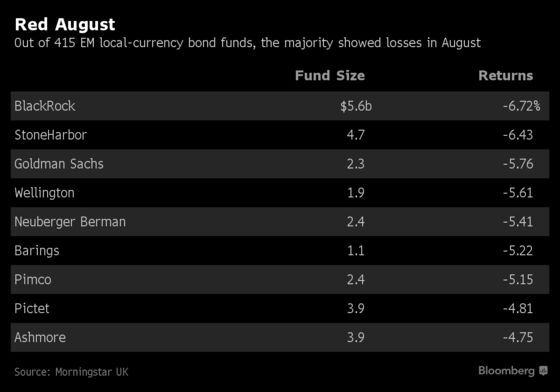 "Even though everyone tried to manage the risk around Turkey, no one could have foreseen such a large drop in Turkish assets over the course of such a short period of time," said Anders Faergemann, a fund manager at PineBridge in London, which oversees $87 billion. "A lot of investors will have been burned in this type of environment and that will make them reluctant to go back into Turkey in the short term."
Since the end of last year, Turkey's weight in the benchmark bond indexes has halved to 1.6 percent, making it less relevant for investors and damaging their perception of the Middle East's biggest economy. That compares with a weighting of 10.6 percent for Brazil. A Pimco spokeswoman in London declined to comment for this story.
Out of 18 emerging markets, Thailand generated the biggest bond returns in August. Turkey led losses with a 31 percent slump, followed by 16 percent for Argentina, an 11 percent loss in Russia and a 10 percent decline in Brazil, according to Bloomberg Barclays indexes.
"Unprecedented negative price action in the Turkish currency" caused BlackRock's local-currency emerging-market bond fund to underperform, according to Sergio Trigo Paz, the London-based head of emerging-market debt at BlackRock Inc., which has $6.3 trillion under management. He's keeping a constructive view on emerging-market debt, though Turkish exposure will stay reduced "until we have some clear signs of change."
At the same time, the world's biggest money manager says Turkey's currency collapse marks the point at which most emerging-market vulnerabilities have been laid bare.
"We have now adjusted to a level where most of the skeletons have been uncovered and most vulnerabilities have been pointed out," he said. "You're entering an asset class that is healthier because you have significantly priced in the idiosyncratic risks."
Bond declines for developing nations in August were "collateral damage" from the Turkish turmoil and not a sign of deeper problems, Trigo Paz said.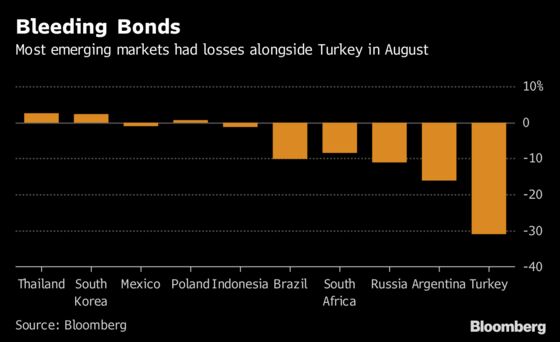 The losses in August were triggered by U.S. sanctions on two Turkish ministers over the detention of an American pastor and they accelerated when U.S. President Donald Trump imposed tariffs on some of the nation's imports. President Recep Tayyip Erdogan retaliated with his own levies and penalties, taking the Turkish lira's slump to 24 percent, the most worldwide. The lira led emerging-market declines on Wednesday with a 2.7 percent drop against the dollar.
The damage may prompt fund managers to take more selective risks in emerging markets and be less willing to buy Turkish debt until the country pursues reforms, according to Vanguard Asset Management, which has $5.1 trillion under management.
"The market will be looking for institutional and structural reforms across the macroeconomy and more foreign direct investment," said Nick Eisinger, a London-based strategist at Vanguard. "Quite a lot of damage has been done obviously in the short term, but I would argue that a decent amount of damage has been done in the longer term as well."