Thai Exchange Chief Confident Foreigners Will Return to Stocks
(Bloomberg) -- Thailand's pace of economic growth and corporate earnings will help attract the return of foreign investors to the nation's equities after the prospect of higher U.S. interest rates and a global tariff dispute spurred a more than $6 billion exodus of international funds, according to the stock exchange's chief.
The nation's growing economy and the performance of stocks is "good information for investors to digest whether it's the right time to come back," Pakorn Peetathawatchai, president of the Stock Exchange of Thailand, said in an interview with Bloomberg Television.
Thailand's benchmark stock index has surged almost 8 percent this quarter, making it one of the world's best performers after better-than-expected quarterly growth in exports, spending and investments.
An increase in goods sold abroad, a rebound in domestic spending and investment along with government spending will continue to buoy growth in Southeast Asia's second-biggest economy, supporting corporate earnings, Pakorn said.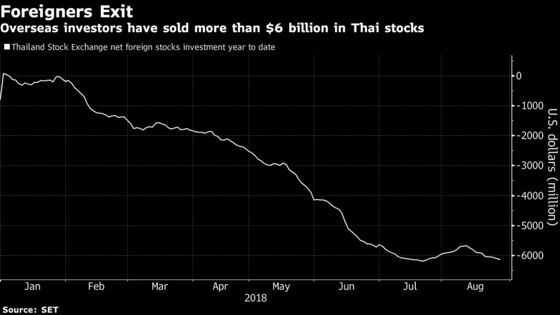 And the bulls are rolling in. SCB Asset Management Co., the nation's biggest private money manager, joined Morgan Stanley in turning more bullish on the Thai market even as international funds withdrew more money than they invested each month for almost a year.
Still, the benchmark equity index is in the red this year with a 2 percent loss as investors assess risks like a potential rise in the nation's benchmark interest rate that could pose a headwind for some companies. The end of this year or early 2019 will probably be the right timing for the first Bank of Thailand interest-rate increase in seven years, according to a top aide to Prime Minister Prayuth Chan-Ocha.
Pakorn, who took over at the exchange on June 1, aims to help small companies and startups in Thailand raise funds via the stock market, he said. The bourse is holding an investment conference called "Thailand Focus" today and tomorrow to promote the nation's equities to international investors.