MTN Plunges After Nigeria Orders Refund of $8.1 Billion Dividend
(Bloomberg) -- Almost a year after MTN Group Ltd. thought it had been cleared over accusations of illegally taking money out of Nigeria, the issue has resurfaced with a vengeance.
Late Wednesday, the country's central bank ordered Africa's largest wireless carrier to return $8.1 billion it says was repatriated improperly over eight years through 2015. The decision caught the company and its shareholders off guard and the shares plunged the most in 20 years to their lowest level since 2009.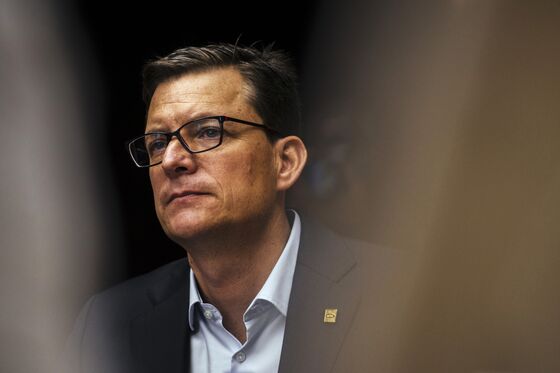 Nigeria is Africa's most populous country and MTN's biggest market with 54 million customers, but has delivered headache after headache for the South African company in recent years. The shares have taken a beating over repeated conflicts with the government and regulators, and this week's surprise order comes as MTN prepares to list shares in Lagos as part of a separate, unrelated dispute resolved in 2016. That settlement also led to a $1 billion fine for MTN.
The latest setback "is very strange," MTN Chief Executive Officer Rob Shuter said on a call with investors before the market opened on Thursday, explaining that the central bank is fixated on dividends the company withdrew from its Nigerian unit after years of capital investments. Why should the dividends be paid to the central bank and not the "company that paid them in the first place?" he asked, adding that MTN is refuting all claims and that due process was followed.
The stock slumped 24 percent to 81.80 rand as of 12:39 p.m. in Johannesburg, valuing the company at 153 billion rand ($10.5 billion). The shares are down 41 percent this year.
An immediate concern for investors is that Johannesburg-based MTN won't be able to repatriate funds out of Nigeria while the dispute is unresolved, meaning the company may have to cut the dividend completely, Alastair Jones, a London-based analyst at New Street Research, said in a note. "Clearly, there is going to be a, perhaps lengthy, process whereby this issue is resolved."
The uncertainty is also likely to derail the planned Nigeria initial public offering, as foreign investors will be put off taking part, according to Bloomberg Intelligence analyst John Davies. The IPO has already been repeatedly delayed.
The allegations come as Nigeria President Muhammadu Buhari seeks re-election in a February vote. His administration has gone after companies for irregularities as well as tax-defaulters, and an anti-graft agency last week questioned the CEO of Zenith Bank Plc, the country's second-biggest lender, over transactions done for the oil-rich Rivers State. MTN was first accused of the misdemeanor two years ago, but was cleared in a report issued in November following a probe commissioned by Nigerian lawmakers.
MTN's separate, $1 billion fine in Nigeria was for missing a deadline to disconnect unregistered customers as part of a government security crackdown to counter an Islamist insurgency. Negotiations over that penalty went on for almost a year and weighed heavily on the share price. The company fired its then-CEO over that crisis, and drafted in former U.S. Attorney General Eric Holder to help settle the matter.
"Fresh memories of the previous fine are not helping," Peter Takaendesa, an analyst at Mergence Investment Managers, said by phone from Cape Town.
The central bank fined Citigroup Inc., Standard Chartered Plc, Standard Bank Group Ltd.'s Stanbic IBTC and Diamond Bank Plc about 5.9 billion naira ($16 million) for helping to move MTN's money. The banks and the phone company were all ordered to refund the cash by the central bank, which couldn't immediately be reached for further comment on Thursday.
Stanbic IBTC didn't do anything wrong and wasn't a beneficiary of the $2.6 billion it remitted on behalf of MTN, the Lagos-based lender said in a statement. Diamond Bank said all regulatory policies were complied with. The other banks didn't immediately comment.
Standard Bank dropped as much as 4.2 percent in Johannesburg, leading declines on the six-member FTSE/JSE Africa Banks Index. Diamond Bank slumped 9.4 percent in Lagos, the most in a month.