Fund Manager With Over 300,000 Followers Turns Bullish on China
(Bloomberg) -- A Chinese fund manager with hundreds of thousands of social media followers has turned bullish on the country's stocks, particularly the health-care sector.
Chen Yu, general manager of Beijing Shennong Capital Asset Management Co., said concerns over the U.S. trade dispute and China's deleveraging campaign have long been priced in, and that market weakness isn't down to fundamentals -- it has stemmed from mood swings. He is getting ready to go all-in on equities, converting cash that's accounting for 40 percent of his 2 billion yuan ($293 million) of assets under management.
Conditions are good for entry, he said, noting that mainland equities should get a reprieve as the government tries to rein in the pessimism pervading Asia's worst performing stock market. Chen has been ranked among the nation's best private fund managers by the state-run China Securities Journal in each of the past five years. With more than 320,000 followers on his Weibo social media account, Chen and his opinions are also closely monitored by retail investors, who account for the bulk of mainland trading.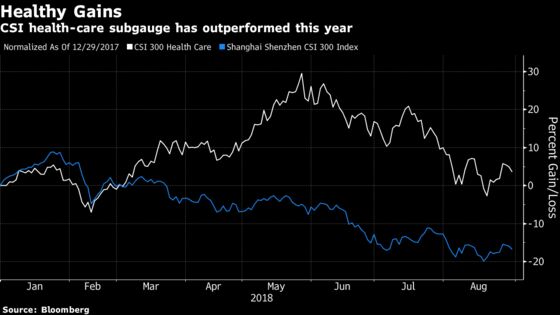 "The budding health-care sector is merely at the beginning of a long and robust bull market," Chen said in an interview in Beijing last week. He favors companies with exposure to innovative, cardiovascular and cancer drugs with wider margins.
Health care is the only subgauge on the CSI 300 Index to have risen year-to-date, posting an advance of 3.6 percent. The next best performers are utilities stocks, which are down 7 percent, while all other sectors have slumped 10 percent or more. The rally in Chinese pharmaceutical companies lost momentum in July though as a vaccine scandal rocked the industry.
Chen was offloading Chinese equities just a few months ago, amid what he called "immense" downward risks. His overall stocks holding versus cash is at the lowest this year, and he plans to return to full exposure to equities by mid-September, including adding companies his funds have never owned. Beijing Shennong focuses on onshore-traded consumer, technology and health-care firms.
Tech will remain lucrative even as trade tensions between Washington and Beijing persist, while consumer stocks will continue to benefit from China's shift in spending habits. That should provide stable returns for investors even if the Shanghai Composite Index bottoms at 2,300 in a worst-case-scenario, according to Chen. The benchmark fell 1.1 percent Thursday, closing at 2,738.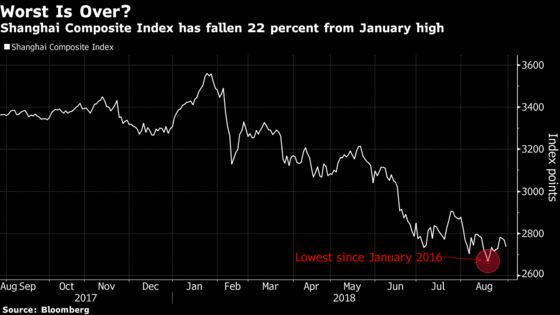 The Shanghai Composite has tumbled 23 percent from its January peak, hit by headwinds such as the trade war and signs of a slowing Chinese economy. Chen's 1.6 billion yuan flagship fund has outperformed the market, but not by much. It is down about 17 percent, heading for its worst annual performance since its inception in 2010.
Beijing-based Chen is optimistic about a swift turnaround, reiterating that market sentiment is overly negative. "Everyone is worried -- the fear among investors is contagious," he said, adding that people are "worrying too much about things they don't fully understand."
"That's an opportunity," Chen said. "I believe the worst is almost over."