Chinese Steel Stocks Back in Favor as Nation Looks to Clean Air
(Bloomberg) -- Chinese steel stocks are back in vogue, as the nation's push for clean air and new infrastructure offsets worries about a supply glut.
Bolstered by prices near a seven-year high, heavyweights Baoshan Iron & Steel Co. and Angang Steel Co. are among Goldman Sachs Group Inc.'s favorite basic materials stocks, the bank said in a note earlier this month. Both posted solid growth in earnings this week, and are likely to see the uplift continue on strong steel demand through the rest of the year, according to Bloomberg Intelligence analyst Yi Zhu.
With China planning tougher capacity cuts over the winter to reduce air pollution, steel futures this month surged to the highest level since 2011. The government, meanwhile, has also pledged to speed up infrastructure spending in the face of an escalating trade conflict with the U.S., which will boost demand for steel.
"We are optimistic on steel demand," said Sandra Huang, a Hong Kong-based analyst with UOB Kay Hian Holdings Ltd. "The infrastructure sector will receive notable support in the second half to offset a weakening in the property sector." Valuations will recover further because of supply cuts, said Huang, who has had an overweight rating on the sector since the beginning of the year.
Baosteel, China's biggest mill, and No. 3 producer Angang have rebounded from their early July lows, outperforming broader gauges of Chinese stocks. Goldman sees 70 percent upside for Baosteel and about 50 percent for Angang's Hong Kong-listed shares. Baosteel slid 2.5 percent to 7.86 yuan as of 10:22 in Shanghai on Thursday, while Angang was up 0.3 percent at HK$7.71 in Hong Kong.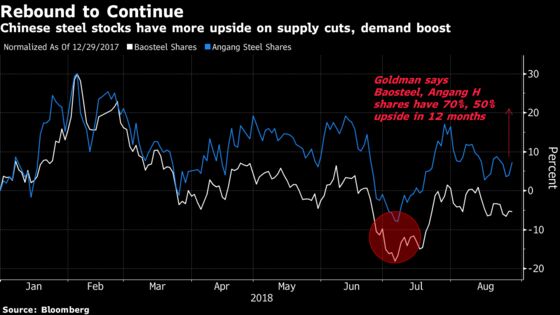 News on China's supply cuts has come thick and fast. Constraints this winter may be extended to more cities in the north, while the government's blue-sky protection plan would expand curbs through 2020, affecting about 7 percent of national output, according to Morgan Stanley.
This week, the main steel-producing province of Hebei said the three-year plan would cap capacity at 200 million metric tons, after earlier announcing that the program would result in 40 million tons of cuts. China's capacity is about 1 billion tons, according to the government, accounting for around half of world production.
The profitability of China's steel mills is at the highest in a decade, and order books are healthy through September, according to Goldman. Baosteel's PE ratio is around 8, near the lowest in a year, while Angang's is 7.2. Both are well below the 11.5 average for Chinese stocks.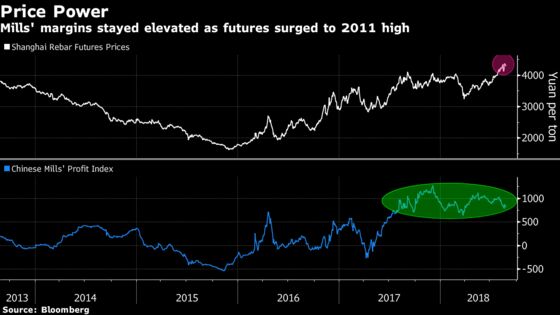 Baosteel painted a cautiously optimistic picture for prices in its earnings report, saying they'll benefit from stable demand from manufacturers, capacity curtailments, and intensified environmental checks disrupting supply. It also flagged risks from the world's lurch toward protectionism, and new capacity additions in China -- to which it will be contributing with an 18.9 billion yuan ($2.8 billion) investment in a third blast furnace in Zhanjiang, Guangdong province.