Argentina-Focused ETF Bleeds Cash as Risks Grow
(Bloomberg) -- Investors are yanking cash from the largest exchange-traded fund tracking Argentine equities at a record pace as policy makers slash their expectations for the economy and a corruption probe adds to market jitters.
The $99 million Global X MSCI Argentina ETF, known by its ticker ARGT, has seen more than $33 million of outflows so far this month, putting it on track to be the biggest monthly withdrawal since the fund's inception in March 2011. Investors have traded about 2.3 million shares of ARGT this month, more than double the monthly average for the past year -- and August isn't over yet.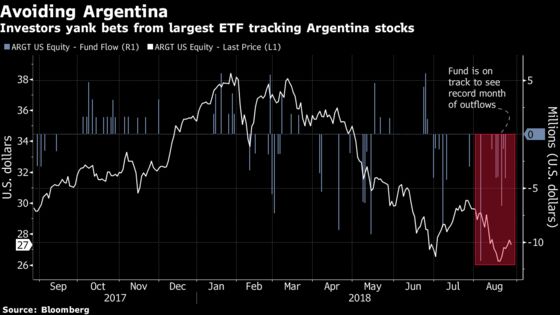 Investors have fled Argentine assets, like the peso, since the government took on a $50 billion credit line from the International Monetary Fund in June. Then, rising weakness in emerging markets and selloffs in Turkey and Brazil further hurt the nation's assets. Spreads between the Argentina bonds and Treasuries, a key gauge for investor sentiment in the country, have more than doubled this year, according to a JPMorgan Chase & Co. index.
President Mauricio Macri announced Wednesday that he has asked the IMF to accelerate disbursements to ease the nation's financial crisis. The request underscores the government's need to reassure markets that it has enough money to fund itself through 2019.
"Argentina is cheap, but it's hard to see a near-term catalyst," said Greg Lesko, a money manager at Deltec Asset Management in New York.
ARGT's assets have plunged over 53 percent this year, and on Aug. 23 they hit the lowest level since January 2017. In June, MSCI Inc. said it would reclassify the nation's U.S.-traded stocks as an emerging market, a step that may eventually boost inflows.
The country's stocks had a tough start to the month after a graft probe, based on evidence contained in eight notebooks kept by the chauffeur of a former government planning secretary, raised concerns that slowing investment would add to pressures from a historic drought. The Treasury Minister said for the first time Monday that the country's economy will contract about 1 percent this year. The government had expected growth of 3 percent at the beginning of the year.
"The stock market's fragility is exposed in the asymmetry of its movements," analysts at local consulting firm Delphos Investment wrote in a note to clients. "When there are tailwinds abroad, the local gains are fleeting, but when there are headwinds, the selloff is very strong."