Wall Street Strategists Rush to Raise S&P 500 Forecasts Amid Equity Rally
(Bloomberg) -- Wall Street strategists are starting to feel left behind as an equity rally drives the S&P 500 Index to within reach of their year-end forecasts.
Michael Purves, chief global strategist at Weeden & Co., increased his forecast to 3,000 from 2,850, less than a week after Maneesh Deshpande at Barclays Plc boosted his projection by 100 points to the same level.
Before these changes, the average forecast of strategists tracked by Bloomberg saw the S&P 500 ending the year at 2,944. The index rose 0.8 percent to 2,896.74 at 4 p.m. in New York, closing at a record for a second session.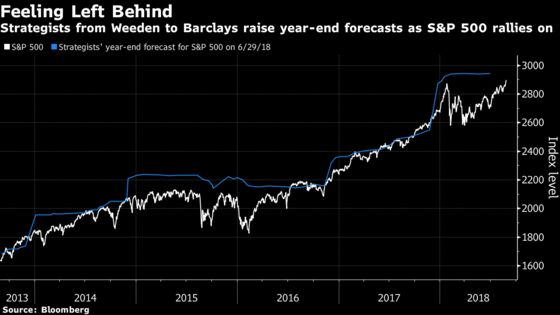 The latest upgrades came after the S&P 500 broke out of a seven-month trading range to become by some measures the longest bull market on record. Better-than-forecast earnings and economic growth have underpinned the rally, offsetting concerns ranging from a global trade war, an emerging-market selloff and political drama in Washington.
"Growth prospects, while priced in, are strong, and market sentiment is not frothy," Purves wrote in a note to clients, raising his per-share earnings estimate to $152 from $147. "While there are always risks to consider, we expect P/E's, and the market, to be supported into year's end under most scenarios."
Not everyone is convinced that the S&P 500 will end 2018 higher. Mike Wilson at Morgan Stanley, whose year-end forecast of 2,750 makes him the most bearish among strategists, sticks to his call. The outperformance in defensive shares such as utilities, along with tech's waning leadership and the participation of fewer stocks over the past few months, is a sign that more trouble may be ahead for the market, he said.
"The market seems to be (rightly in our view) worried about growth slowing later this year and next," Wilson wrote in a note Monday. "The rolling bear market that began in January has unfinished business with U.S. growth and small cap stocks the most vulnerable."