Korea Unveils Proposed Changes to `Chaebol' Conglomerate Rules
(Bloomberg) -- South Korea's antitrust watchdog proposed new rules for family-run conglomerates to make it harder for such businesses to muscle through their agendas at the expense of minority shareholders.
The proposed amendments to existing regulations would require a newly created holding company to own at least 30 percent in an entity it wants to treat as a listed subsidiary and at least 50 percent for an unlisted unit, according to a draft the Fair Trade Commission released in Seoul. The current minimums are 20 percent for listed and 40 percent for unlisted.
The steps to raise the cost for a family-run conglomerate to control subsidiaries are expected to be proposed to the National Assembly in November and are in line with campaign promises made by President Moon Jae-in to reform chaebol. The draft amendments to the Monopoly Regulations and Fair Trade Act, first enacted in 1980, reflect changes in the country's economic environment, the regulator said in a statement.
Current
Amendment
Holding company must hold no less than 20% in listed units, 40% in unlisted units
30% in listed units, 50% or more in unlisted units


Only newly established or restructured holding companies are subject to the rule

Intra-group trading is restricted when the founding family holds 30% or more of a listed company, or 20% or more of an unlisted one.
Restricted when founding family holds 20% or more or listed or unlisted company
Finance or insurance companies, founding families, company executives and affiliates together are limited to 15% of total voting rights in a listed affiliate of a conglomerate. Exceptions are granted for merged affiliates.
Merger exception eliminated except for cases involving protection against hostile takeover
A group with assets exceeding 10 trillion won ($8.9 billion) is designated as a conglomerate, or an enterprise group, placing it under fair trade law regulations
A group of companies with total sum of assets exceeding 0.5% of GDP will be designated as a conglomerate.


The rule will be implemented one year after the 0.5% of GDP exceeds 10 trillion won

Charity foundations, founding family, company executives and affiliates together limited to 15% of total voting rights in a listed unit of a conglomerate


The limit to be gradually reduced from 30% to 15% over three years; To take effect two years after passage of new law
"Conglomerates will find it harder to make changes like mergers or spinoffs among affiliates without support from the market and shareholders," FTC Chairman Kim Sang-jo said in a briefing.
Kim was appointed by a president who himself won office amid a wave of popular support for stemming chaebol power.
The government faces a challenge in reforming conglomerates in ways that could be painful for the sprawling business groups because it must rely on them to promote economic growth, in particular in manufacturing. Moon has referred to chaebol titans as a "deep rooted evil," but has yet to substantially change the rules they operate under.
"I would give 20 points out of 100, a basic score, to what the Moon government has done for corporate governance reform," said Bruce Lee, chief executive officer at Seoul-based Zebra Investment Management. "Chaebol would stop doing bad things, but that's not enough for an improvement."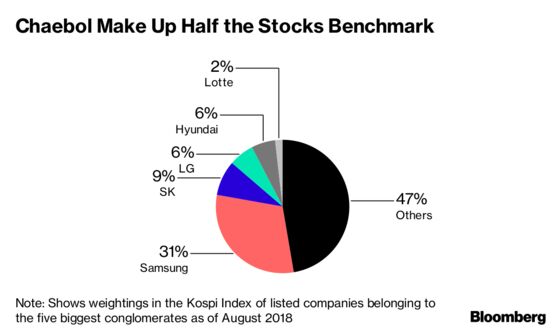 The new rules would apply to companies with assets equivalent to 0.5 percent of gross domestic product or more, a standard that will be implemented one year after that amount exceeds 10 trillion won ($8.9 billion). The same percentage of 2017 GDP would come to about $7.7 billion, based on International Monetary Fund figures.