It's Not the Economy, Stupid. For European Stocks, It's Politics
(Bloomberg) -- European markets' summer of discontent may be a taste of what's to come.
It's not that the fundamentals for the region's equities are bad: economic data are finally perking up and earnings growth is steady. The issues clouding the outlook are political, ranging from the new populist government in Italy to the U.S.'s unpredictable trade policy. There are also risks brewing in emerging markets that are starting to haunt European markets.
Since June ended, European shares have weathered Turkey's turmoil and trade jitters to climb 1 percent and strategists are still projecting further gains in the second half of the year. But multiples have shrunk precipitously this year, cyclicals are at the lowest versus defensives in more than a year, and the streak of fund outflows from the region has reached its 24th week, according to Bank of America Merrill Lynch -- all signs of feeble sentiment.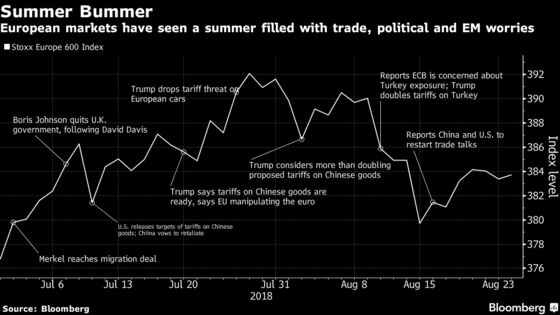 "The big dynamic in Europe really is a fairly positive macroeconomic backdrop in terms of both Europe and globally, but you do have increasingly big geopolitical questions," said Chris Hiorns, a fund manager at EdenTree Investment Management Ltd. in London.
As the days shorten and temperatures fall following a hot European summer, here's what will be keeping investors in their offices (other than the cold):
Politics, Politics, Politics
From the ascension of Italy's new populist government to the endless Brexit drama, politics have been impossible to ignore for investors this year. The Italian coalition is poised to unveil its new budget in September, one that markets fear will be too expansionary for EU rules. The government's response to the collapse of a bridge in Genoa has only reinforced concerns over its relations with business. The last time Italian politics were in the headlines in May, European stocks tumbled on broader fears over the region's unity.
"The Italian budget negotiations are likely to be very aggressive domestically and equally aggressive towards the other EU members," said Maximilian Kunkel, Germany chief investment officer at UBS Wealth Management. "It's bad for investor sentiment and inflows of foreign money."
Another risk is Germany, where Bavarian elections in October may destabilize the coalition of Chancellor Angela Merkel, an anchor of European power if not global power.
Of course, there's also Brexit. Seven months before the U.K. is supposed to leave the EU, it's still unsure what future relations between the two sides are going to look like. Any updates are likely going to move the pound, which typically has an inverse relationship with large-caps and a positive one with mid-caps. A confirmed no-deal or so-called hard Brexit may also hit domestic shares especially hard.
Trade Talks
European investors will be watching the outcome of EU talks to eliminate tariffs on industrial goods with the U.S., a goal both sides have agreed on but achieved little substantive progress toward. Any breakthrough would be a much-needed boost to Europe's auto sector, whose valuation has slid to the lowest since 2012. Yet despite the negotiations, the industry still remains vulnerable to Trump's taunts: he recently reiterated his threat to slap a 25 percent tariff on car imports from Europe.
Investors will also be waiting to see if the U.S. and China manage to resolve their trade conflict before it escalates with American tariffs on another $200 billion of Chinese goods and China retaliating. If all the tit-for-tat so far this year is any indication, further tensions will weigh on European markets, which are more export-sensitive than the U.S.
"If they do implement these $200 billion, it will be the tipping point where you will see significant market implications," said Maxime Alimi, head of investment strategy at AXA IM in Paris. "It is a bit of a paradox, as things are seemingly improving between the EU and U.S., and still EU markets will be more impacted than U.S. equities."
Compared to the U.S., European markets are more sensitive to developing nations, which are coming under increasing pressure from tightening global liquidity. Turkey was a good reminder of these vulnerabilities, as European shares slid earlier this month on fears of contagion from economic turmoil in that country. A number of European banks, including Banco Bilbao Vizcaya Argentaria SA, Unicredit SpA, ING Groep NV, BNP Paribas SA and HSBC Holdings Plc, have exposure to the Turkish market.
Elsewhere, Brazil's currency is also sliding on concerns more market-friendly candidates may not prevail in October's presidential election. But most worryingly, Chinese economic data have disappointed lately, and the exchange rate and stocks have kept sliding all summer. European companies exposed to emerging markets and China reported earnings below expectations in the second quarter, according to Goldman Sachs Group Inc.
And then there are the fundamentals
The good news is: Europe's economic data, the downturn of which fueled equity underperformance earlier this year, have started to turn around.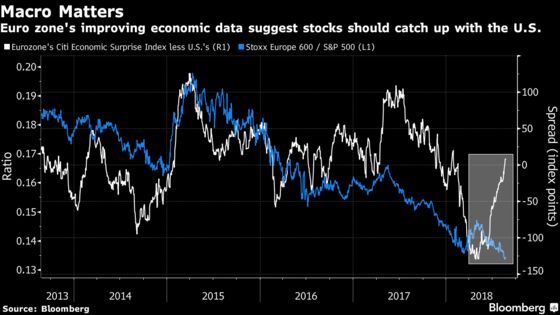 Earnings growth may be nothing like the U.S., but it's not bad. Analysts are expecting profits to rise 6.1 percent for the whole of 2018, and 9.2 percent next year, estimates compiled by Bloomberg show. The euro has also weakened so much that it's now in the red year-on-year, giving upcoming earnings a good boost.
Unlike the Federal Reserve, the European Central Bank is also expected to hold rates for at least a year. That should help European growth and sustain a weaker euro, though not the region's long-suffering banking stocks.
"The euro is going to stick to this rate for a while longer and I think that is a good story for European companies," said Thomas Thygesen, SEB AB's head of cross-asset strategy in Copenhagen. "The ECB is still pumping the economy, and the Fed is not doing that."