Hedge Funds Kept Betting Against Gold Even as Prices Began Rally
(Bloomberg) -- Hedge funds' record net-bearish bets on gold signal how quickly investor appetite for the precious metal could turn.
On Friday, bullion futures climbed the most in five months after Federal Reserve Chair Jerome Powell signaled policy makers are sticking to gradual interest rate increases. That gave the precious metals market a needed jolt, days after money managers boosted their net-short position on gold to a record for a fifth straight week.
Gold has tumbled about 11 percent from this year's high as the dollar strengthened and robust U.S. economic growth bolstered the case for the Fed to keep raising borrowing costs. Even during recent bouts of market turmoil, investors have bypassed bullion in their hunt for havens, choosing instead the greenback, yen or Treasuries. That downtrend was interrupted as Powell delivered his dovish speech in Jackson Hole, Wyoming.
"Unfortunately for those shorts today, it wasn't quite the scenario they were hoping for, said Chad Morganlander, a money manager at Stifel Nicolaus & Co., which oversees $270 billion. "If you continue to see a weakness in the U.S. dollar, those positions will start to unwind."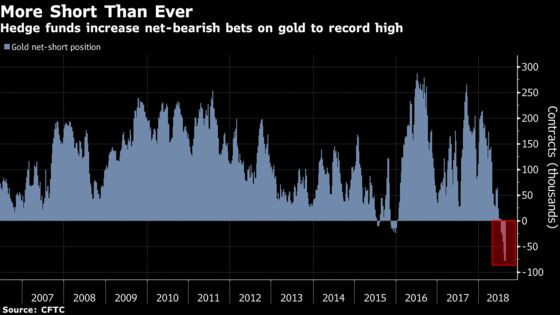 Wagers on gold's declines outnumbered bets on price gains by 78,579 futures and contracts in the week ended Aug. 21, according to U.S. Commodity Futures Trading Commission data released Friday. That's the fifth straight week that money managers boosted their net-short position on the metal.
On Friday, bullion futures for December delivery closed the week 2.5 percent higher at $1,213.30 an ounce on the Comex in New York. That's the biggest weekly gain for a most-active contract since March 23.