AMD Extends the Best Rally in the S&P 500
(Bloomberg) -- Advanced Micro Devices Inc. is the best performer in the S&P 500 Index, and the momentum behind the chipmaker's rally just keeps growing.
The shares climbed as much as 6.9 percent Friday on growing optimism that Intel Corp.'s security problems will aid AMD's market-share gains in data centers. The stock is on track to log a sixth-consecutive advance, the longest winning streak since October 2017.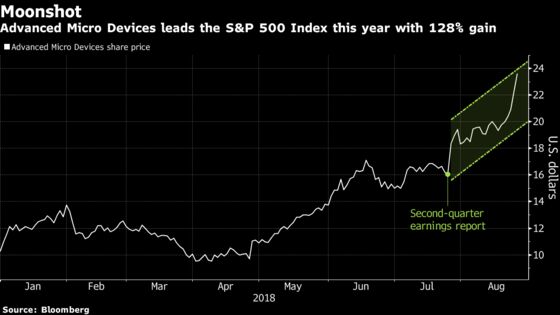 Santa Clara, California-based AMD has more than doubled this year as bullish investors bet it will take market share in personal computers and data centers from cross-town rival Intel, which has fallen 16 percent from an 18-year high in June as it faces delays to its new 10-nanometer chip technology. Concern about Intel's chip security problems may motivate data-center operators to buy central-processing units from additional sources and AMD is a likely beneficiary, according to Cowen analyst Matt Ramsay.
"As these security issues become increasingly important, and at a time when AMD is reinvigorated in the CPU market, we believe this ultimately motivates vendors to turn to multi-sourcing beyond Intel," Ramsay wrote in a research note.
Ramsey and 13 other analysts have the equivalent of buy recommendations on AMD, but not everyone on the sell-side is as bullish, data compiled by Bloomberg show. The stock also has 13 hold ratings and four sells, while the shares have already overshot the average 12-month price target by more than 23 percent.
Meanwhile, more than 17 percent of AMD's shares available for trading are sold short, according to data compiled by IHS Markit. That's the third-most in the Philadelphia Stock Exchange Semiconductor Index and well above the 4.3 percent average for the benchmark's 30 members.