Euro Pessimism Reaching Point Where Some Say It's Time to Buy
(Bloomberg) -- The next turn in the euro's roller-coaster ride may not be far.
After starting the year with a bang, the common currency was ambushed by adversities from dollar strength to turmoil in Italy and Turkey, and slid to a 14-month low last week. The selloff now looks overdone, and the euro may recover on the prospect of stronger growth and reduced political risks in the region, according to Aviva Investors Global Services.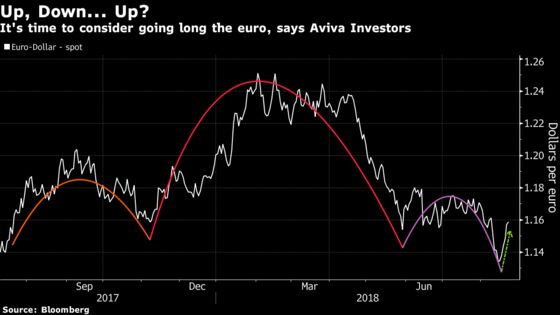 Europe's shared currency has dropped almost 4 percent against the dollar this year, after a stellar 14 percent rally in 2017. Its declines in recent months prompted a slew of forecast cuts, lowering the year-end target in a Bloomberg survey of strategists to $1.17 from as high as $1.27 in March. The latest projection still implies a 1.1 percent gain from current levels.
"I think if you wanted to be long the euro, now's the time to be having that discussion," James McAlevey, a London-based fund manager at Aviva, said in an interview. "We still like European growth -- we expect a bit more of a synchronized recovery later in the year rather than just the U.S. The euro should do better in that for lots of reasons: current-account surpluses, Italian risk reduction et cetera."
The euro fell for the first time in seven days Thursday and was around $1.1570. The pair had touched a two-week high a day earlier when a report showed euro-area wages are on the rise, adding another reason for the European Central Bank to move away from its ultra accommodative policy.
ABN Amro Bank NV, one of the most accurate euro-dollar forecasters in Bloomberg surveys, said in a client note that the euro-dollar pair has "bottomed out." While an uptrend in the common currency could take time to materialize, strategists at the bank including Georgette Boele have lifted their end-September forecast to $1.15 from $1.10.
For McAlevey and his colleague Jub Hurren, whose firm manages 352 billion pounds ($452 billion) globally, it's time to reconsider the level of pessimism priced into European assets.
"Sentiment is extremely negative around European assets whether it's foreign exchange or anything else," Hurren said. "To us, that's the right time to start looking at long ideas or increase exposure."
JPMorgan Chase & Co. strategists see 2018 as the euro's "lost year," cutting their year-end prediction for the currency to $1.12 from $1.20. UBS Group AG analysts have lowered their Dec. 31 call to $1.20 from $1.25 after the euro's "surprising" weakness.
For Aviva's McAlevey, the recent flurry of forecast cuts marks a "kind of inflection point."
"There's been a sufficient reduction in those bullish long-term expectations now to at least accommodate a conversation" about the euro, he said.