September Set Up Nicely for U.S. Momentum Rally, Nomura Says
(Bloomberg) -- A combination of seasonality and a tax calendar effect sets up September for a potentially strong rally in U.S. momentum stocks, according to Nomura Holdings Inc.
Since 1984, September has shown the second-best average monthly returns for one-year momentum strategies, wrote strategist Charlie McElligott in a note to clients Wednesday. The fact that it is a quarter-end month, which overlaps with many mutual fund year-ends, is likely behind the outperformance, he said.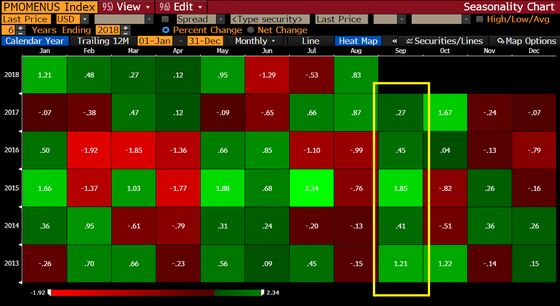 "This in turn drives out-sized tax loss selling, or behavior where institutional investors abandon 'losers' to avoid reporting embarrassing ownership," he wrote. "In addition, you too will see elements of mark-ups or window-dressing, where fund managers will buy 'winners' to create the appearance that they have captured alpha and found the right stocks over the quarter."
Momentum investing, buying stocks which are in an uptrend and selling those that are falling, has been one of the best performing strategies over the last year. A portfolio of U.S. momentum stocks chosen by Bloomberg has risen over 8 percent in the last 12-months, handily beating the 12 percent decline in a basket of value shares.
While value shares have shown some signs in recent weeks of staging a comeback, this just creates an additional "attractive entry point" for momentum, according to McElligott.
Still, investors should be ready to take profits should the September seasonality hold, the strategist said, as a withdrawal of monetary stimulus from the world's central banks could impact markets toward the end of the year.
"By late October, we should again see heightened cross-asset volatility off the back of the negative impact of what will be a large "Quantitative Tightening" impulse via the Fed/ECB/BOJ," he said.