Gap Tumbles After Sales Decline Extends Woes at Namesake Brand
(Bloomberg) -- Old Navy has been Gap Inc.'s savior in recent quarters, but its strength isn't enough to quell investors' concerns about its namesake brand.
Gap stores posted same-store sales that fell 5 percent last quarter -- more than double the decline projected by analysts. While gains at the Old Navy value chain helped shore up results, the shares slid the most in three months on Friday.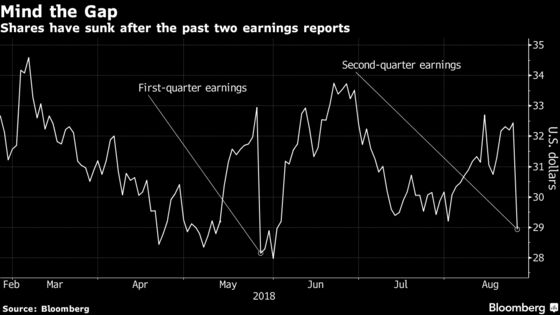 "Obviously, we have to acknowledge the challenges at Gap Brand," said Chief Financial Officer Teri List-Stoll in a conference call with investors. "The business is not yet where it needs to be."
Gap has increasingly relied on Old Navy and Athleta while it works to revive the Gap unit. In June the company named Neil Fiske as chief executive officer of the Gap brand, and his priority has been to fix problems with late deliveries that caused inventory to swell in the first quarter. That forced the retailer to resort to discounts.
Gap shares fell as much as 10 percent to $29.18 in New York, the biggest intraday decline since late May. The stock had already dropped 4.8 percent this year through Thursday's close.
Comparable-store sales at the Gap brand were seen falling 2.3 percent, according to Consensus Metrix. The company has been unable to turn the unit around, with that measure falling in 16 of the past 18 quarters.
At Old Navy, comparable sales rose 5 percent, compared with an estimate of a 4 percent gain. Banana Republic same-store sales of 2 percent were in line with projections. By measuring results at established stores, comparable sales are a key gauge of a retailer's health.
Profit was 76 cents a share, higher than analysts' estimate of 72 cents.