Libor-OIS Falls to Lowest of 2018, Slashing Dollar-Funding Costs
(Bloomberg) -- A key measure of the cost of short-term dollar financing has tumbled to the lowest level this year, making the aggressive widening seen in the first quarter a distant memory.
After surging to the highest since 2009 in early April, the spread on the three-month London interbank offered rate for dollars over the overnight indexed swap rate, known as Libor-OIS, has plunged more than 35 basis points. The gap now stands at just 23 basis points, the tightest since December 2017.
Strategists initially attributed the meteoric spread widening to changes in U.S. tax policy and the torrent of Treasury bills issued after February's debt-ceiling resolution. The current bout of tightening may be the result of companies repatriating cash held offshore into prime funds. That's driving up demand for commercial paper, putting downward pressure on other money-market rates and overwhelming $180 billion of net T-bill issuance since mid-July.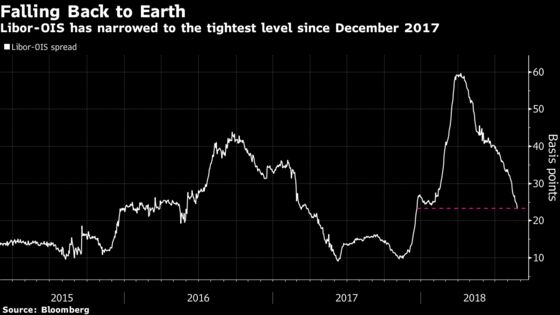 "It's a little curious as to how resilient Libor-OIS has been given the recent increase in Treasury-bill issuance," said Jonathan Cohn, an interest-rate strategist at Credit Suisse Securities (USA) LLC.
The Libor-OIS spread started narrowing at the beginning of April. With the government's tax deadline set to fill its coffers, Treasury slashed the size of its bill auctions, which resulted in a net paydown of about $131 billion of supply through the end of June.
At the same time, institutional investors started stashing repatriated cash in prime money-market funds before deploying it for share buybacks and other purposes. Institutional prime-fund assets have risen by more than $30 billion over the past five months to $223 billion, the highest since 2016, Investment Company Institute data show.
As prime money-fund assets have surged, issuance of financial commercial paper, one of the types of securities the funds buy, has declined. This has helped drive down rates, which in turn has kept Libor in check even as OIS continues to climb on expectations of further Federal Reserve policy tightening.
Regardless of the spread compression, analysts from Citigroup Inc. and Societe Generale SA recommend betting on wider short-term funding spreads. Treasury is going to continue boosting bill supply to finance the widening budget deficit and offset the Fed's shrinking balance sheet. The burgeoning issuance could increase short-term funding costs again, from repurchase agreements to Libor.
"You're seeing some pressure in the repo market," Cohn said. "Eventually you're going to see spillover to Libor-OIS and unsecured rates."