China Stimulus Plan Not Enough to Boost Stocks, BofAML Says
(Bloomberg) -- China's policy response to a slowing economy may come too late, and its stock market hasn't reached a bottom yet if history is any guide, according Bank of America Merrill Lynch.
"Similar to in 2011 or 2015, it's possible that China's stimulus polices may stay behind the curve this time," analysts including head of China equity strategy David Cui wrote in a note Wednesday. "As a result, growth may continue to disappoint."
The strategists mapped some 443 policies enacted by Chinese authorities since 2007 to better gauge their effects on the country's markets. They found:
A change in economic policy doesn't normally mark a turnaround for the Hang Seng China Enterprises Index
The yuan can weaken again if exports come under pressure from trade tariffs, as it has done in the past
While policy makers have often stated their intention not to do any major stimulus whenever growth slows down, there appears to be substantial latitude under the term "fine-tuning". BofAML expects the same if needed this time
The buildup of local government debt has not slowed, it has just become increasingly opaque
"Going through the full policy list, it's striking to see how many of them were to deal with the same problems that are still present today," the analysts wrote. These include "influencing housing prices, cutting overcapacity, removing implicit guarantees on debt, and preventing credit going into undesirable areas."
In order to counter a slowing economy and a potentially prolonged trade war with the U.S., Chinese policy makers have pulled back on the pace of tightening and encouraged banks to lend more. Still, the chances of across-the-board stimulus has so far been ruled out, as they continue to keep a wary eye on the country's debt pile.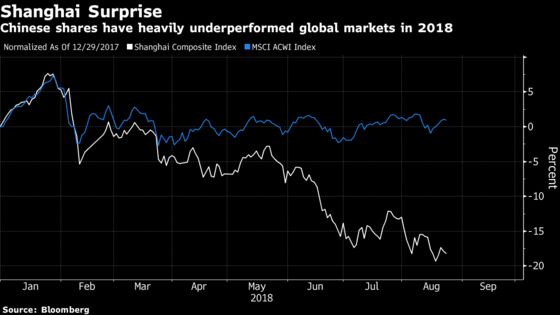 The Shanghai Composite Index is the worst-performing major stock market this year, down about 18 percent, according to data compiled by Bloomberg. That compares with a near 1 percent rise in the MSCI AC World Index.
For the market to bottom, the strategists say they are looking for the avoidance of trade tariffs and indications of a significant easing of the authority's control over local government debt. Then clear signs of growth stabilization, albeit with a lag, they said.
For now at least, none of this has happened.
"At this stage, we believe that the China equity market has not reached a bottom," they concluded.