Stocks Rise to Record, Dollar Falls on Dovish Fed: Markets Wrap
(Bloomberg) -- U.S. stocks rose, sending the S&P 500 Index past its January record, as an expanding economy and surging earnings erased a six-month drought in which equities tumbled into a correction. The dollar dropped.
Equities capped a second straight week of gains and the dollar slumped Friday after Federal Reserve Chairman Jerome Powell signaled the central bank has no intention of raising interest rates at a faster pace. The latest stocks record marks another milestone in a nine-year bull run that's now the longest in history.
The dollar fell for the sixth time in seven days as Powell said that gradual rate increases are likely appropriate if growth stays strong, and "there does not seem to be an elevated risk of overheating." The 10-year Treasury yield edged lower to 2.82 percent. Crude settled above $68 a barrel in New York and gold jumped above $1,200 an ounce.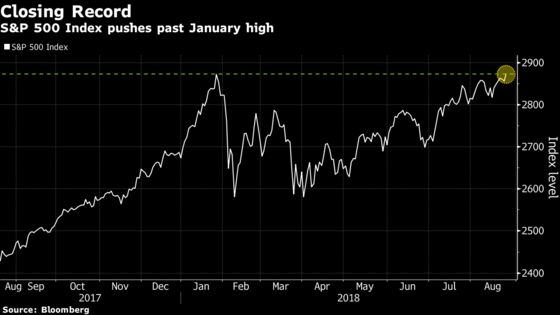 "It looks like he understands the light touch he has to have on raising rates versus inflation," Kim Forrest, senior portfolio manager at Fort Pitt Capital Group LLC in Pittsburgh, said by phone. "It doesn't sound like he's going to do a Greenspan, over-tighten. But he does understand inflation is now probably his primary objective, keeping that measure as the primary issue in the economy. But you also don't want to kill the recovery and kill strong growth. He's going to let the data decide."
The Chinese yuan traded offshore surged against the greenback after the People's Bank of China said it tweaked how it fixes the level of its nation's currency. The government also said Friday it was removing limits on foreign ownership of its banks. The changes come after low-level talks between the U.S. and China this week failed to make any progress in ending the trade war as both side slapped new tariffs on each other.
Investors hoping for a global-trade resolution were left disappointed after the U.S. talks with China ended with an increased likelihood that tit-for-tat tariffs will escalate, casting a shadow over the global-growth outlook. But the focus has shifted back to Fed policy, with bond traders now more certain of two rate hikes by year-end. However, this view could be tested with the turmoil in emerging markets, continuing trade tensions and political drama in Washington still hanging in the background.
Elsewhere, the Mexican peso pared gains against the greenback as cracks emerged in Nafta negotiations. Oil headed for the first weekly rise in two months amid prospects of tightening supplies from the North Sea to the Middle East. Most industrial metals rose along with gold and platinum.
Terminal users can read more in our Bloomberg Markets Live blog here.
These are the main moves in markets:
The S&P 500 Index rose 0.6 percent to 2,874.72, a closing record, as of 4 p.m. New York time.
The Nasdaq Composite Index gained 0.9 percent to a record.
The Russell 2000 Index gained 0.5 percent to a record.
The Stoxx Europe 600 Index gained 0.1 percent.
The MSCI All-Country World Index advanced 0.5 percent.
The Bloomberg Dollar Spot Index fell 0.5 percent.
The euro gained 0.7 percent to $1.1625.
The British pound climbed 0.3 percent.
The Japanese yen rose 0.1 percent to 111.19 per dollar.
The yield on 10-year Treasuries fell less one basis point to 2.82 percent.
Germany's 10-year yield was little changed at 0.34 percent.
Britain's 10-year yield gained two basis points to 1.30 percent.
Japan's 10-year yield advanced less than one basis point to 0.101 percent.
West Texas Intermediate crude increased 1.1 percent to $68.60 a barrel, the highest in more than three weeks.
Gold advanced 1.7 percent to $1,205.47 an ounce.
Copper climbed 1.5 percent to $2.72 a pound.