RBA's Debelle Says Drivers of Weak Inflation Likely to Abate
(Bloomberg) -- The Reserve Bank of Australia's no. 2 official said the factors weighing on consumer prices in recent years were likely to abate, in a thinly-veiled defense of the bank's 25-year-old inflation target.
"We would like to be more confident that inflation will be sustained at a rate consistent with the target," RBA Deputy Governor Guy Debelle said in the text of a speech in Brisbane Wednesday. "Although inflation is likely to be a bit lower in the near term, this is expected to be temporary. Further gradual progress on both lowering unemployment and bringing inflation closer to the midpoint of the target is expected over coming years."
The central bank has held rates at a record low 1.5 percent for two years and Debelle said "the current accommodative stance of monetary policy will assist" in returning inflation to the center of the 2 percent to 3 percent target. At the heart of the RBA's inflation struggle is global disinflation and weak wage growth in the world's major economies, despite most being at or below traditional full employment levels.
Australia's jobless rate is still about 0.3 percentage point above the estimated full employment level of 5 percent that typically signals a thinning of available labor and requires employers to offer higher wages to lure employees.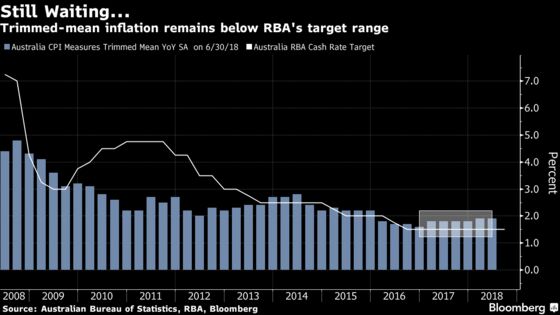 "No one really thinks all that much about the aggregate rate of inflation when it's in the 2 to 3 percent zone," Debelle said following the speech. "There's not a massive science as to why exactly it's that number versus some other number fairly close to it. But it's a number which has worked effectively for the Australian economy over the last 25 years or so."
Debelle said one of the key areas of change in Australia has been retail. Since 2015, retail prices have declined on average, and the price of the typical food basket has not increased all that much over the past 10 years. Most notably, he said, the prices of audiovisual equipment have declined by 90 percent over the past 25 years.
On top of that is intensified competition from the Internet and major retailers. As a result, the pass through to higher prices from a lower exchange rate has barely occurred of late as firms absorb the increase via weaker margins.
Debelle also noted in his speech:
Compression of food prices is likely coming to an end, though the current drought could impact some of that
CPI is adjusted for quality and technology, meaning while the price of a smart phone may remain unchanged, the increased functions it offers are reflected in lower inflation
Rents have been falling since 2008, and year-ended inflation is around its lowest since the mid 1990s. This has been a considerable drag as rental inflation was nearly 3 percentage points lower per annum in the past three years than in the previous 20
"Beyond the September quarter, we continue to expect inflation to be around 2.25 percent over the next couple of years as above-trend GDP growth reduces spare capacity in the labor market and there is an associated pick-up in wages growth," Debelle said. "We expect most of these other forces that have contributed to the recent low rate of inflation to abate, but there is uncertainty about how much longer they will persist."