One Investor Pulled Record Cash From European Financials Fund
(Bloomberg) -- Someone's lost faith in an exchange-traded fund stuffed with European financial stocks. Blame Turkey.
The $1.5 billion iShares MSCI Europe Financials ETF, known by its ticker EUFN, saw a record $178.3 million of outflows on Tuesday. The pullback appears to be driven by one investor, since a single block of about 9 million shares worth $178 million traded shortly after the European market close. The fund is the worst-performing non-leveraged ETF tracking European equities this year, as the region's banks have slumped recently due to their exposure to Turkey.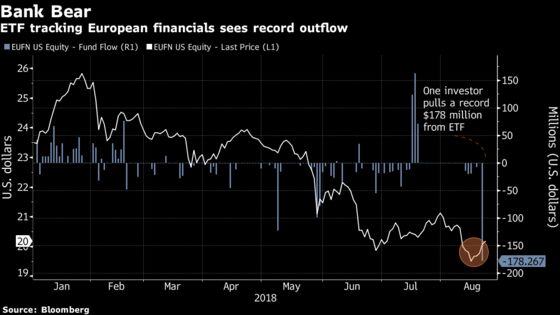 "EUFN has rallied from the lows, and it could be a fund or investor taking advantage of a bounce to get out," said Christian Fromhertz, founder and chief executive officer of the trader education firm Tribeca Trade Group.
The ETF saw a resurgence of inflows about a month ago, when investors may have been betting on a bottom for the fund, which had been bleeding cash for months. But Turkey exposure has hurt the likes of Italy's UniCredit SpA, France's BNP Paribas SA and Spain's Banco Bilbao Vizcaya Argentaria, or BBVA, amid fears that the financial problems could spill over into the euro region and emerging markets. On Monday, S&P Global Ratings cut BBVA's outlook to negative from stable, citing risks stemming from the bank's investments in Turkey.
This week's outflow might've been an investor throwing in the towel on the ETF or covering their short positions, according to Dave Lutz, head of ETFs at JonesTrading Institutional Services.
"Portfolio managers would want to sell due to Italian and Turkey contagion," Lutz said. "While shorts may want to cover as the sector has been crushed year-to-date."