It's Complicated: New Pound-FTSE Relationship Is a Bad Omen
(Bloomberg) -- Brexit negotiations are as unpredictable as they are volatile, but one constant in the two years since the referendum has been the inverse relationship between sterling and U.K. stocks. Not anymore.
This month, the 40-day correlation between the pound and FTSE 100 turned positive, rising to the highest level since the aftermath of the 2016 referendum on Monday. The benchmark has lost about 2 percent in August while the pound has fallen by a similar magnitude.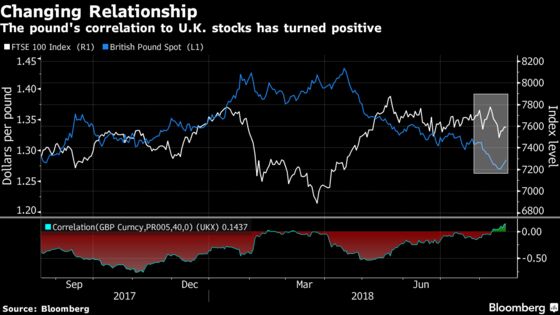 Ever since the Brexit vote, the prevailing logic has been that a weaker pound boosts the overseas earnings of globally exposed U.K. stocks. That's why, counter-intuitively, bad Brexit news can sometimes give large-cap equities a boost. But that relationship is changing because the stock market and the currency are each being pressured by something more foreboding: global risk aversion.
"When you get this positive correlation, it tends to be symptomatic of more generalized market stress," said Ian Harnett, chief investment strategist at Absolute Strategy Research Ltd. in London. "While there will be some translation effect boosting earnings per share from the decline in the exchange rate, if the strength of the dollar comes from worries about global growth, the transactions effect will dominate."
The last time the correlation turned positive was in early March, briefly, after the pound dropped with the FTSE 100 amid a global market meltdown.
Current trends notwithstanding, Harnett sees longer-term correlations remaining negative and advises investors to closely monitor the relationship for signs of a reversal.
Movements in the dollar have dominated global currency markets of late, surging earlier this month as concerns about a slowdown in emerging markets fueled a flight to quality before dipping in recent days as those fears subsided and U.S. President Donald Trump railed against monetary tightening by the Federal Reserve.
As of Wednesday morning, the FTSE 100 was down 0.1 percent even as sterling weakened 0.2 percent.
The euro area is seeing a similar breakdown in the relationship between the common currency and equity markets. The euro's correlation with the Euro Stoxx 50 is not only positive but is at the highest it's been since mid-2017. This despite the fact that the euro has just turned negative year-on-year, meaning it has gone from being a drag on earnings to a boon.