For This Malaysian Millionaire, Laura Ashley Is Still in Fashion
(Bloomberg) -- The long-time Malaysian backer of Laura Ashley Holdings Plc got a little relief on Wednesday as the shares soared on results that provided a rare ray of light for the U.K. purveyor of floral fashions and furniture.
The stock rose as much as 36 percent, but at a price of 5.88 pence is still worth only a small fraction of when the business was last in vogue with investors in the mid-1990s. Having spent the past two decades largely treading water, some analysts wonder why millionaire chairman and main shareholder Khoo Kay-Peng has persevered with its listed status in London.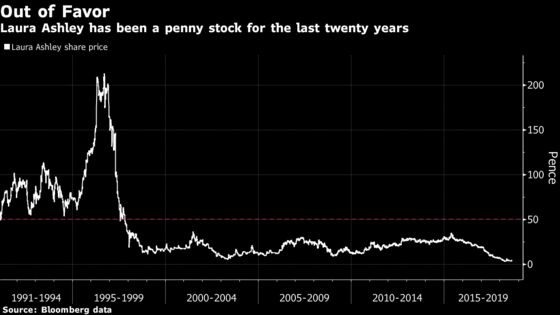 "It is unclear why the Malaysian company that controls Laura Ashley still keeps its U.K. listing," Nick Bubb, an independent retail analyst, said in emailed commentary, noting that by doing so the company is required to publish detailed financial results every six months. Earnings released on Wednesday included 9.7 percent growth in like-for-like fashion sales in the year ended June 30, while the company also announced plans to sell a Singapore property for S$54.5 million ($40 million) in cash.
Asked about Laura Ashley's ownership, Chief Financial Officer and co-Chief Operating Officer Sean Anglim said Khoo has always maintained the listing, adding: "I don't think there are any plans to change it."
Since listing in London during the brand's heyday in 1985, Laura Ashley has lost favor with most investors. A failed U.S. expansion saw the share price collapse in 1996 and 1997, prompting Malaysia's MUI Group to buy a 40 percent holding in April 1998. In the 20 years since then, the shares have been unable to shed their tag as a penny stock.
MUI founder Khoo was named chairman in March 1999. He and MUI collectively hold about a 61 percent stake, according to data compiled by Bloomberg.