Vanguard Health-Care ETF Sees Record Trading as Pharma Soars
The $8.2 billion Vanguard Health Care ETF, known by its ticker VHT, had 1.6 million shares worth $272 million trade Monday, record one-day turnover for the fund. It also hasn't seen a day of outflows in August, with $145 million of net inflows putting the ETF on track for its best month since June 2017.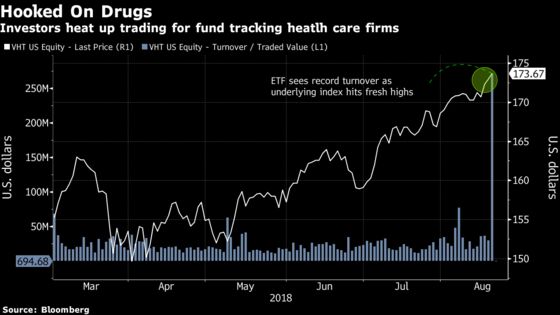 U.S. drugmakers are hot, with Pfizer Inc., Eli Lilly & Co. and Merck & Co. soaring to 16-year highs after reporting stronger than expected second-quarter results and the S&P 500 Index pharmaceuticals industry group hitting an all-time high Monday. Together, Pfizer and Merck make up more than 10 percent of the fund's exposure. Its largest holding is industry bellwether Johnson & Johnson, which is heading for its best four-day run since early 2016.
"Health-care closed the first half of the year as the best performing defensive sector," said Christopher Dhanraj, head of ETF investment strategy for BlackRock Inc.'s iShares funds. "Still, investors may consider this an interesting entry point. The sector is trading near its lowest level relative to the S&P 500 in four years."
The $850 million iShares U.S. Healthcare Providers ETF, or IHF, saw $48 million of inflows Monday, the most in almost two months. Trading volume in the fund hit $54 million Monday, more than eight times its average over the past year.