The World's Biggest Pension Fund Needs U.S. Bull Run to Last
(Bloomberg) -- The world's biggest pension fund, always a giant within its home country of Japan, has been expanding its reach in other stock markets -- and becoming increasingly dependent on a U.S. bull run that's poised to be the longest in history.
The $1.4 trillion Government Pension Investment Fund has doubled its foreign shares since a strategy overhaul in 2014, and is now a top 10 holder in more than 260 companies outside Japan, according to a Bloomberg analysis of GPIF's individual equity positions after they were released last month.
Nowhere has its stock buying been greater than in the U.S., whose shares account for more than half of the fund's overseas equity holdings. As a predominantly passive investor, GPIF's fortunes have become particularly tied to the largest U.S. stocks at a time when that country's bull market is in its 10th year. While that strategy has been working, analysts warn that the purple patch for the fund's returns may not continue.
"It was good timing," Ayako Sera, a strategist at Sumitomo Mitsui Trust Bank Ltd. in Tokyo, said of the fund's shift from Japanese bonds into stocks. "But it's still too early to judge."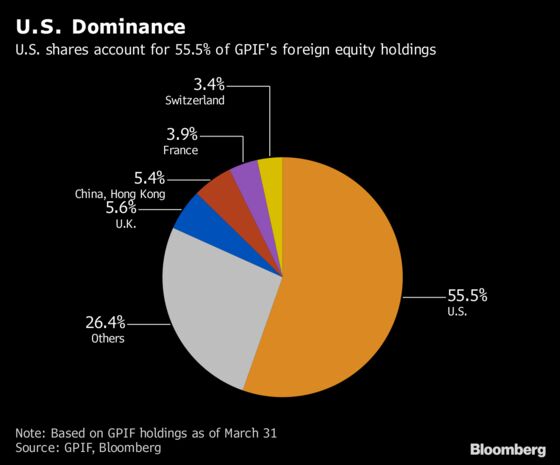 Of its $348 billion in foreign equities, GPIF has about $193 billion in U.S. stocks, according to Bloomberg's calculations. The fund has stakes of more than $1 billion in 41 U.S. firms, with holdings worth more than $5 billion in Apple, Microsoft Corp. and Amazon.com Inc. Shares of all three companies have at least doubled since GPIF changed course in 2014.
"Performance has been really good because of large-cap stocks like Apple, Amazon.com and Alphabet, which have been on a roll," said Norihiro Fujito, chief investment strategist at Mitsubishi UFJ Morgan Stanley Securities Co. "Global investments have become a key part of GPIF's portfolio."
GPIF decided to slash its holdings of Japanese government bonds and put 50 percent of assets in equities in October 2014. Foreign shares have increased to 24.7 percent of holdings this year from 12.4 percent in March 2013. GPIF gained 6.9 percent in the year ended March, its best return in three years.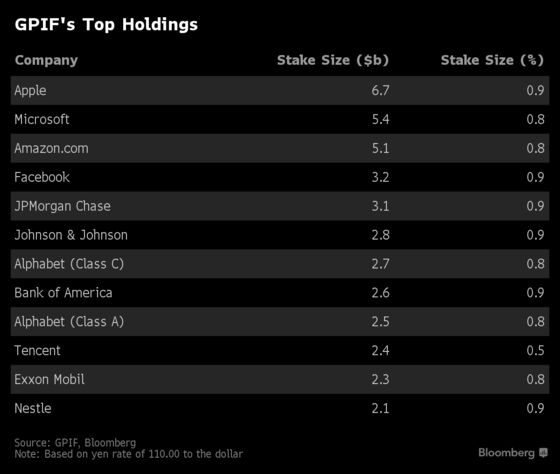 GPIF has posted an average annual return of 9.2 percent from its overseas stocks over the past four fiscal years. That, along with a 13 percent average yearly return from Japanese shares in the period, has driven performance.
GPIF's outsized stakes in large-cap U.S. equities shouldn't be a surprise, as 86 percent of foreign stock investments are passive.
Still, some of the positions have become enormous. GPIF's investment in Apple Inc., for example, is worth close to $7 billion, making the fund a larger shareholder than U.S. investment giant Capital Group Cos. and the State of California.
GPIF holds 55.5 percent of its foreign stocks in U.S. equities, 5.6 percent in U.K. shares and 5.4 percent in Chinese and Hong Kong stocks, according to Bloomberg calculations based on the fund's holdings as of the end of March.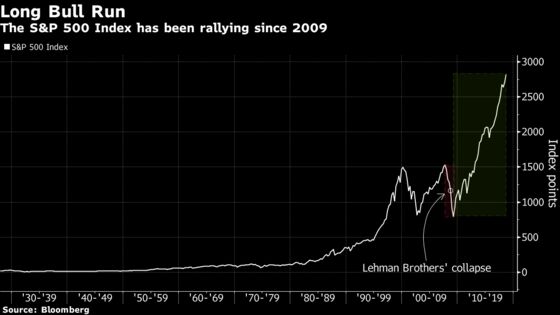 Sera of Sumitomo Mitsui Trust Bank argues that the foray into overseas shares has gone far enough. It's time to stop adding to such positions, she says.
But others, such as Fujito of Mitsubishi UFJ Morgan Stanley Securities, say there's room to buy even more. He says the fund is still overly reliant on Japanese shares, which accounted for 51 percent of equity holdings at the end of March, versus a country weighting of just 8 percent in MSCI's All-Country World Index.
"Purely from a portfolio-management perspective, it's certainly possible for GPIF to scale back" on domestic equities, Fujito said.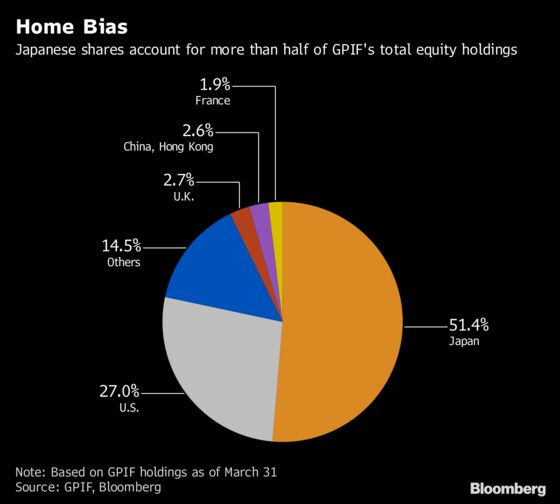 The S&P 500 Index is on the brink of overtaking its longest bull run ever, which ended when the tech bubble burst in 2000. The gauge capped a fourth day of gains on Tuesday, touching an all-time intraday high. But when that index falls, it can fall hard. For example, it plunged 57 percent during the financial crisis after hitting an all-time high on Oct. 9, 2007.
GPIF has top 10 stakes in 265 companies, according to Bloomberg calculations based on the fund's holdings as of the end of March and some later filings. They include everything from China's Tencent Holdings Ltd. to Nestle SA in Switzerland and BHP Billiton Ltd. in Australia.
"GPIF's presence as an investor in global companies is growing," said Shogo Maekawa, a Tokyo-based global market strategist with JPMorgan Asset Management. "Risk has increased," he said. But there's no turning back to the old days of investing mostly in Japanese bonds, he said.