No Quant Is Safe as Global Stress Hits Risk Parity Where It Hurts
(Bloomberg) -- Choppy markets around the world are hurting one of Wall Street's hottest quantitative trades, belying its status as a port in the storm.
The commodity train wreck, emerging-market turmoil and shifts in government bonds have created a wave of turbulence for risk-parity funds, a strategy first popularized by Ray Dalio that weighs exposures according to volatility measures.
Two-month realized price swings for the investing style hit the highest in more than two years last week, before easing. And it's the second-worst performing portfolio tracked by JPMorgan Chase & Co. so far this year, as of Aug. 10.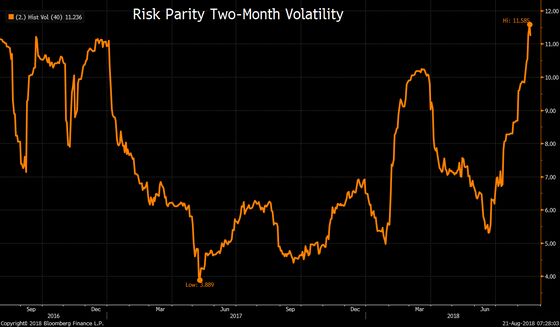 Beloved by math whizzes and increasingly adopted by the mom-and-pop crowd, the leveraged strategy has boomed in the post-crisis era driven by diversification-minded algorithms, and faith in the hedging power of bonds.
The allocation method aims to hold multiple asset classes to balance out risk, so losses will be moderated by holdings that tend to move in opposite directions.
But from the trade clash to extreme moves in developing assets, portfolios have struggled to find shelter so far this year, with turmoil in metals the latest in a list of stresses.
No one's saying risk parity is broken. Proponents say the strategy can sustain bouts of underperformance -- by design, it captures the average return across assets, so it can outperform in the long run.
But for now, it means that because the funds have modest allocations to some of the riskier markets, they haven't harvested the best returns on offer this year, generated by U.S. stocks.
Commodities, meanwhile, have been among the worst-performing categories, declining 2.6 percent this year in the average risk-parity portfolio, data from Salient Index Management show. The sovereign-debt portion has tumbled 1.2 percent while U.S. equities have contributed a 0.6 percent gain, according to the firm.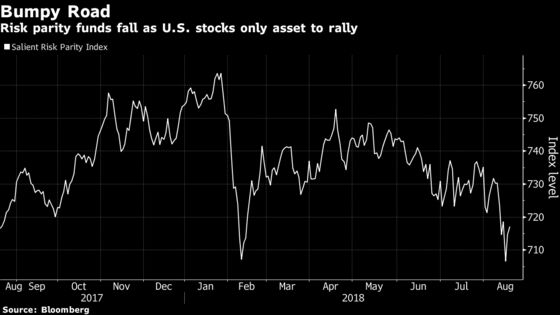 Practitioners, for their part, say keep calm and carry on.
"Everyone's performance has been soft this year relative to U.S. stocks," Roberto Croce, director of quantitative research at Salient Partners LP. "Risk parity is trying to be in the middle, trying to get diversification. It's never going to be the top-performing thing, but it won't be the bottom either."
Maneesh Shanbhag, who co-founded Greenline Partners LLC after almost five years at Bridgewater Associates LP, concurs.
"Equities came off low valuations to deliver higher returns," he said. "Now, risk parity looks relatively dull but has delivered what it was supposed to."
Risk-parity's travails might test faith in the trading style over traditional allocations. It's among the worst-performing categories tracked by JPMorgan, falling 1.2 percent this year. That compares to a 2.1 percent gain for long-short equity funds, 1.7 percent for macro funds, and 2.9 percent for balanced mutual accounts, according to data published by the U.S. bank earlier this month.
The only managers to fare worse are trend-chasing commodity trade advisers, or CTAs, which have lost 4.8 percent.
There's one source of relief: Investors needn't fret such funds are poised to unwind amid the volatility, potentially exacerbating already frayed market nerves.
Exposures on average are depressed right now as portfolios have lightened up on leverage in recent months, according to Salient.
And there are signs managers are dipping back into U.S. stocks at least, as 'America First' trades boom. The group has snapped up equities over the past two months, with allocations now sitting near average levels, according to JPMorgan strategists including Nikolaos Panigirtzoglou.
Despite risk parity's lagging performance, Croce at Salient say there's one key takeaway in all this: a mixed portfolio remains a solid proposition over the long haul.
"Anytime your ability to predict the future is low, having a strategy that relies on diversification makes sense," said Croce. "If things are more choppy and you only have one thing in your portfolio, if political winds hit that one thing, you could be down 50 percent."