Equities Shake Off Trump's Latest Fed Meddling: Taking Stock
(Bloomberg) -- S&P futures appear to be shaking off the brief late-session shock Monday that came on the heels of an interview with President Trump in which he decried the actions of his central bank chief, China and Europe. Chinese state support for its currency and equities markets seems mostly responsible for the green on the tape early, as the "national team" was speculated to be involved in supporting asset prices for a second day -- which shouldn't be much of a surprise as the Hang Seng and Shanghai Composite had recorded peak to trough declines of 20 percent and 26 percent, respectively in 2018.
Monday saw money come into energy and materials names as the dollar comes off its 2018 highs, boosting WTI crude and gold prices -- this looks to continue into today's session as gold and WTI crude are up ~0.5 percent, with gold regaining the crucial $1200/ounce level.
Though earnings season is mostly complete, some key industry players are still left to report ahead of the bell. High-end homebuilder Toll Brothers is leading the way thus far, up as much as 12 percent after beating on the bottom line and showcasing backlog value up 22 percent. This is performance at the luxury level is notable after Wells Fargo Monday discussed their NAHB/Wells Fargo Housing Opportunity Index for 2Q, which indicated affordability in the U.S. was at a 10-year low. Wells saw opportunities for some of the low end builders like DHI, KBH and LGIH.
Medical device giant Medtronic blew away analysts, beating on the top and bottom line and providing a strong forecast. Watch BSX as the device peers differ slightly in their quarter ends.
Retail earnings are still in focus, though 94% of the S&P 500 results are in the books. There is broad agreement that this season as a whole showed healthy profits (25% earnings growth, according to Bloomberg data), though yellow flags are starting to be waved for the months ahead and for what Goldman Sachs analysts call a potential "margin recession" lurking on the horizon. We saw some indications of as much last week, when Home Depot and Macy's cited rising transportation and delivery costs as rationale for future gross margin disappointments.
The analysts see wages rising, turmoil overseas and tax cuts in the rear-view mirror as key aspects of why profit margin growth is keen to slow from the "best" earnings season since 2010. Bloomberg Intelligence equity market strategists led by Gina Martin Adams too, see modest margin pressures building. She sees S&P 500 firms on a "spending spree," that, when paired with difficult comparisons and rising input costs, may lead to a challenged profit trend.
Beauty product manufacturer and distributor Coty affirmed some of this trend in results a few minutes ago, missing on adj. gross margin ests. Kohl's results just hit, and first glance shows similar dynamics are at play. Though earnings beat by 12 cents, the outlook for the rest of the year came in below the avg estimate. Margins for the quarter only slightly beat. Pre-market trades tilt to the downside after having substantially recovered the decline that accompanied Macy's second quarter results last Wednesday, when concerns about gross margins and expenses dragged the sector lower. Nordstrom's Thursday results may have played a part to lift the sector the following day.
TJX Companies is in a similar circumstance, suffering from the bout of retail-related selling last week, but it too recovered into the weekend and through Monday. Results are expected just after 8:30 a.m in New York.
Monday's session looked as though the battered China Internet ADRs from last week's disappointing earnings were going to stage a decent recovery. VipShop, JD.com and Huya began the session strong as a combination of China-U.S. trade-related optimism and reports in the Asian session that state-backed funds were seen buying stocks to stabilize the market. Its unclear if the stocks can sustain these gains and any relief-related momentum after the Reuters interview with U.S. President Trump ratcheted up trade and monetary policy rhetoric into the close, leading to declines in the dollar and equities alike. iQIYI and Alibaba are up slightly pre-market ahead of the latter's earnings expected Thursday; these ADRs will be key to watch.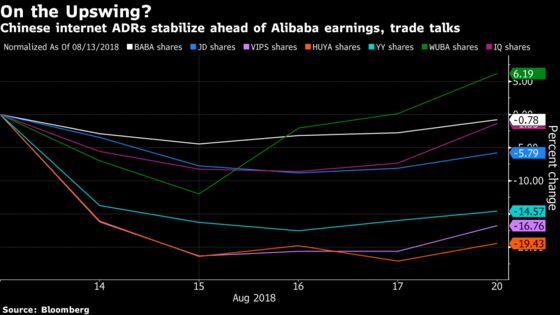 BofAML becomes one of the biggest bulls on Apple shares, raising its price target to $250 from $230 (below Monness' Street- high $275) on the back of the App Store growth's diversification away from its predominant game reliance. Analyst Wamsi Mohan reiterates the buy rating and boosts 2019 ests. for services by ~$800 million.
Nvidia's latest gaming chip (Turing architecture) is getting a decent amount of attention. Stifel's Kevin Cassidy called it a "significant upgrade from Nvidia's current high end PC gaming GPU and allows Nvidia to maintain its PC gaming mantle, increasing ASP and starting a new upgrade cycle." Goldman's Toshiya Hari late Monday reiterated his buy rating, and agreed with Cassidy, expecting the new chip to drive a strong upgrade cycle. Nvidia is trading higher in the pre-market by nearly 1 percent.
Tick-by-Tick Guide to Today's Actionable Events
Today -- U.S. holds public hearings on China tariffs (day two)
Today -- Enercom oil and gas conference (day three)
7:00am -- KSS, SJM earnings
7:30am -- DAKT earnings
8:00am -- MDT earnings call
8:30am -- SJM earnings call
8:35am -- TJX earnings (roughly)
9:00am -- KSS earnings call
11:00am -- TOL, TJX earnings call
4:00pm -- RRGB earnings
4:05pm -- URBN, KEYS, PSTG, SMCI, MYGN (roughly) earnings
4:15pm -- LZB, JKHY (roughly) earnings
4:30pm -- API oil inventories
5:00pm -- URBN earnings call