Demand for Junk-Bond ETF Signals Strong Investor Appetite for Risk
(Bloomberg) -- The risk-on mood gripping U.S. markets Tuesday showed up in junk-bond ETF volume.
At least one investor moved 1 million shares worth about $28 million in the SPDR Bloomberg Barclays Short Term High Yield Bond ETF, or SJNK. By 2:20 p.m. in New York, turnover had reached almost $86 million, nearly double the daily average for the past year.
A mere 10 seconds after that trade, there was a block sale of almost 900,000 shares -- worth just over $27 million -- of the SPDR Bloomberg Barclays Investment Grade Floating Rate ETF, known by its ticker FLRN.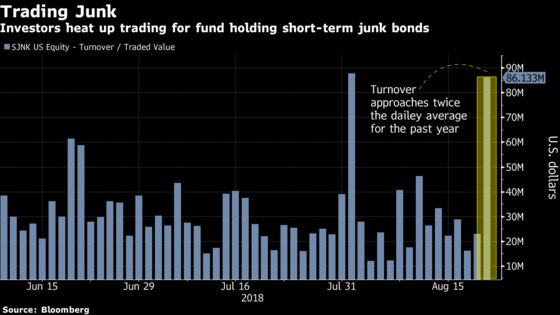 "Investors were quite nervous through the month of February and into March, but gradually that has faded," Peter Jankovskis, co-chief investment officer at Oakbrook Investments, said by phone. "People have been focusing on the strong earnings growth now that we've had for two consecutive quarters following that drop off. They've realized that this economy and growth can continue."
The S&P 500 Index rallied to a record Tuesday afternoon, surpassing its prior high from January as two quarters of 24 percent earnings gains and strong U.S. growth prospects have investors betting the nine-year bull market has more room to run. SJNK added 0.2 percent as of 3:15 p.m. in New York.