HNA Units Lose $10 Billion in Market Value After Resumptions
(Bloomberg) -- Six HNA Group Co. units have lost about $10 billion in market value since their shares resumed trading in the past few weeks, underscoring persisting concerns about the conglomerate, which is saddled with one of the biggest piles of debt in corporate China.
Total losses topped the milestone during early trading in Shanghai and Shenzhen on Tuesday, though they pared back declines to about $9.8 billion as of the midday break. All the units have underperformed their benchmark indexes since the share suspensions, with Hainan HNA Infrastructure Investment Group Co. dropping the most by plunging more than 45 percent in the past seven trading days.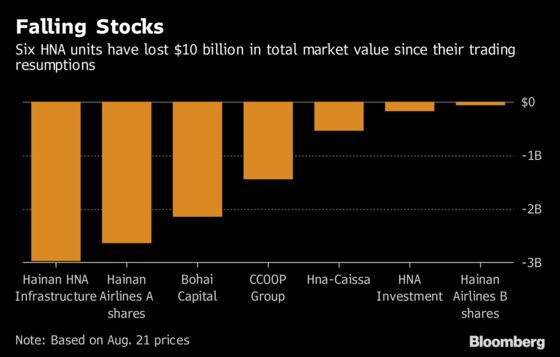 The units had been suspended for months, citing major restructuring plans, as the group sought to cope with surging borrowing costs. After accumulating more than $85 billion in debt from a years-long acquisition spree, HNA is now reversing course and has sold more than $17 billion in assets this year. HNA Technology Co. is the last remaining suspended subsidiary, pending the progress of a restructuring plan.