A Hedge Fund's Lesson for the World's Biggest Sovereign Wealth Fund
(Bloomberg Opinion) -- "Banks are watching all their profitable activities — foreign exchange, consumer finance, small company lending — being taken away by fintech companies and peer to peer lenders," hedge fund manager Crispin Odey recently told his investors. "They are starting to look like the department stores — victims of the internet." The second-quarter returns posed by the world's biggest sovereign wealth fund appear to confirm his thesis.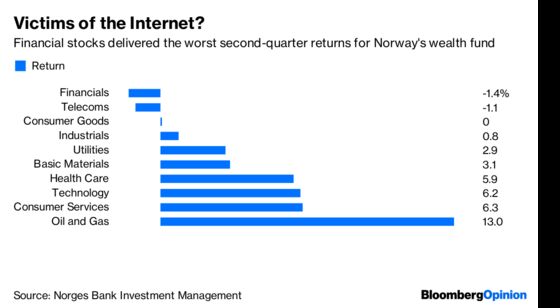 In the decade since the credit crunch, lenders in both the U.S. and Europe have underperformed the broader stock-market indexes. But at least U.S. firms have delivered positive returns. European banks — slower to recapitalize in the wake of the market meltdown, and more resistant than their U.S. counterparts to the inevitability of increased post-crisis regulation — have been a disastrous investment.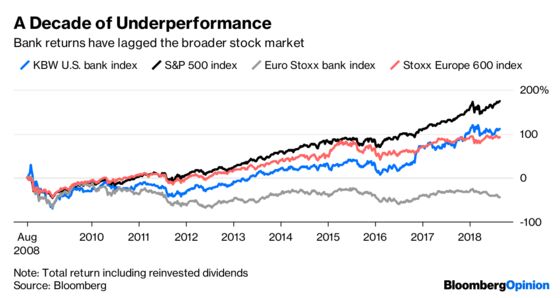 If Odey is right that banks are about to see technology firms gobble up their most profitable markets, Norway's fund may want to revisit its equity allocations.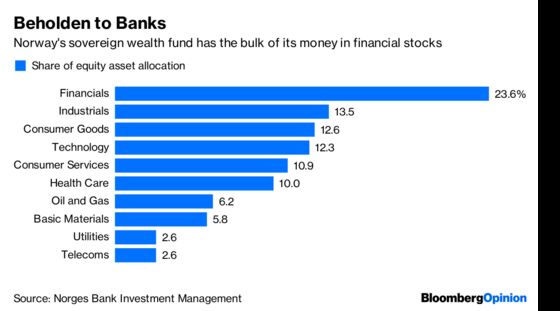 The fund has almost 24 percent of the money it allocates to equities in financial stocks, more than any other sector. Yet it is debating whether to disinvest from oil and gas stocks, which make up just 6.2 percent of the portfolio but delivered by far and away the best returns in the quarter, at 13 percent.
After lagging the benchmark against which they are measured by 0.2 percentage points in the second quarter, the fund's portfolio managers won't want to drift any further.
This column does not necessarily reflect the opinion of the editorial board or Bloomberg LP and its owners.
Mark Gilbert is a Bloomberg Opinion columnist covering asset management. He previously was the London bureau chief for Bloomberg News. He is also the author of "Complicit: How Greed and Collusion Made the Credit Crisis Unstoppable."