Brazilian Real Hits Lowest Levels Since 2016 on Cloudy Election Outlook 
(Bloomberg) -- The Brazilian real fell beyond 4 per dollar for the first time since February 2016 after new polls showed that market-friendly presidential candidates are lagging behind rivals in the run-up to the nation's most tightly contested election in more than 30 years.
The currency led losses among global peers after the latest polls underscored voter support for the Workers Party of jailed former President Luiz Inacio Lula da Silva, who's expected to be barred from running. His leftist party opposes changes to labor and pension policies that many investors say are key to trimming the budget deficit and getting Brazil's financial house in order.
"Optimism for a market-friendly electoral scenario is waning," said Danny Fang, an analyst at BBVA in New York who doesn't rule out central bank intervention should the real keep falling. "There is still a lot of time, but polls basically haven't changed much in recent weeks."
Traders pushed down the value of Brazilian assets this year as election uncertainty and cuts to growth forecasts weighed on sentiment. The most dire warnings say Latin America's largest economy may turn into the next Turkey if the left-wing party takes power again. Brown Brothers Harriman & Co. says the real could tumble to 5 per dollar. The Ibovespa stock index may lose more than a third of its value, according to the local hedge fund Rio Bravo Investimentos.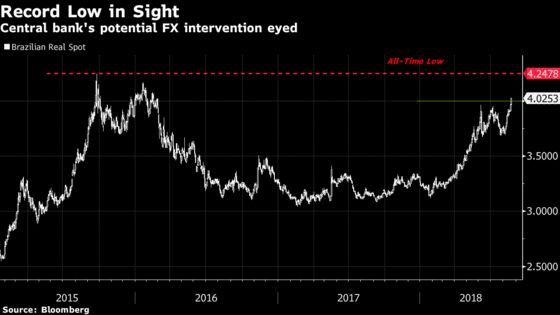 The real's descent through 4 per dollar prompted speculation that the central bank, which typically steps in when the real depreciates faster than peers, will intervene to prop up the currency. In early June, BCB support pushed the currency to near 3.70 to the dollar. That same month, authorities suspended direct intervention via discretionary foreign-exchange swap auctions while making clear that dollar sales may resume if needed.
Brazil Central Bank Is Last Hurdle for BRL to Reach Record Low
Investors are assessing how much support Fernando Haddad, the former Sao Paulo mayor who is Lula's running mate, would capture from voters in case the former president is kept out of the race. An Ibope poll published last night showed that 60 percent of all respondents said they wouldn't vote for Haddad if Lula is excluded. Market-friendly former Sao Paulo governor Geraldo Alckmin would capture just 7 percent of votes if Lula doesn't run, according to Ibope. He's lagging ex-army Captain Jair Bolsonaro, environmentalist Marina Silva and former Ceara state Governor Ciro Gomes.
"Markets are reacting to the reading that the second round may be Fernando Haddad against Jair Bolsonaro," said Rio de Janeiro-based Alvaro Bandeira, chief economist at Modalmais, Banco Modal's brokerage arm.
The real dropped 1.4 percent to 4.0282 per dollar at 3:36 p.m. in New York. The benchmark Ibovespa slid.
While Brazil stock valuations are attractive, "Top down is becoming more uncertain as we move closer to the elections," said Bradford Jones, a money manager at Sagil Asset Management in London. "We are more positive on Mexico than we are on Brazil at this point."