Euro Goes From Bane to Boon for Struggling European Stocks
(Bloomberg) -- When things go south for European shares, you can usually count on a silver lining: a weaker euro.
That's because when the exchange rate falls, European companies operating globally are more competitive, with their overseas earnings getting a bump from the currency translation. And the region's equities may need that even more urgently now, after the benchmark posted its biggest five-day drop in seven weeks amid concern over Turkey's turmoil, trade tensions and political worries about Italy.
The turn in the euro is a boon -- especially since it's taken investors by surprise. Coming off its best year since 2003, the currency fell to the lowest in more than 13 months versus the dollar last week, as its rate discount to the U.S. deepened just as Turkey's worsening economic plight fanned fears of contagion. The median forecast for the year-end euro rate has been falling since mid-2018, and now the year-on-year change has turned negative.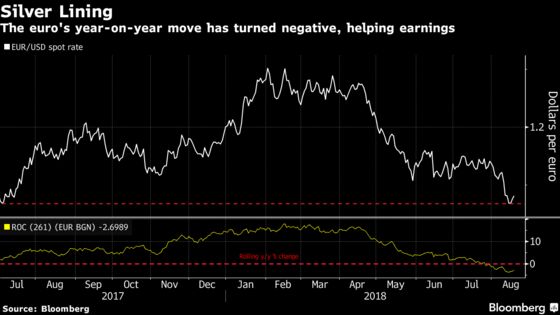 "With the euro depreciation that we've had so far this year, from this point you should get some boost from the weaker currency in terms of euro-zone corporate earnings," said Daniel Morris, London-based senior investment strategist at BNP Paribas Asset Management, which oversees about 568 billion euros ($648 billion) of assets.
While the European Central Bank isn't expected to raise rates until the second half of 2019, "the potential is for tighter monetary policy in the U.S," Morris said. "That should weigh on performance on U.S. stocks vis-a-vis European stocks."
The euro weakened 0.2 percent on Monday, while the Stoxx Europe 600 climbed 0.6 percent as of 9:22 a.m. in London. Hedge funds and other speculators flipped to a net short position on the euro in the week ended Aug. 14, the first time they haven't been long since May 2017, according to U.S. Commodity Futures Trading Commission data.
Of course, it still depends on where the euro's weakness comes from. It won't be good news for any European assets if it stems from economic or political risks in the region. But if growth stays steady, and the euro weakens on monetary divergence from the U.S., it could become a nice surprise for a market that needs it.