Drugmakers Extend Summer Rally as Markets Regain Footing
(Bloomberg) -- Major pharmaceutical companies are partying like it's 2001.
U.S. drugmakers including Pfizer Inc., Eli Lilly & Co., and Merck & Co. are seeing their share prices balloon to the highest levels in more than 16 years as investors rotate in after second-quarter results proved stronger than expected. Impressive earnings paired with waning concerns about potential Trump administration actions on drug pricing could be helping to draw generalist investors in a bit of a "catch up trade," according to Credit Suisse analyst Vamil Divan.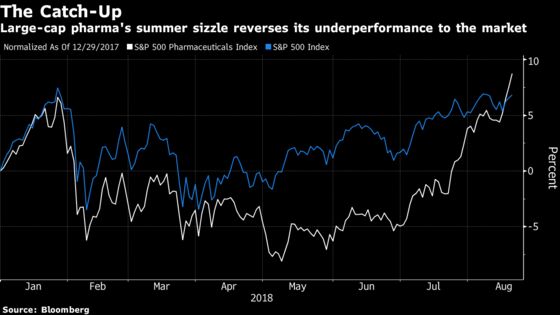 "These companies have been cheap, and relative to where the S&P has been over the last few years, there's a pretty big valuation gap," Divan said by phone. "Having strong second-quarter earnings come through paired with weaker results from the Facebooks of the world certainly helped," he said.
All 10 stocks in the S&P 500 pharma group are higher over the past five sessions. Industry bellwether Johnson & Johnson is heading for its best 4-day run since early 2016, and Allergan Plc climbed to a 10-month high. Even Bristol-Myers Squibb, a relative laggard, topped $61 a share for the first time since shares were whipsawed in April after a lung cancer showdown with Merck.
Generalists who have been hesitant to rush back to the sector earlier this year may be giving drugmakers a second look amid views that any U.S. pricing reforms may be directed at the current rebate structure, instead of attacking net prices themselves, Divan noted. As summer winds to a close and large-cap drugmakers wrap up a month in August that has been seasonally weak for the space, investor focus will reset on upcoming pipeline readouts and the excitement for any potential mega-deals.
While analysts and investors have praised the small- to mid-cap space for heightened innovation, smaller research victories from the likes of Pfizer and Lilly have improved sentiment for the sector. Investors looking for key catalysts can circle August 27 on the calendar. That's when Pfizer will present late-stage data on tafamidis in a rare, fatal condition called transthyretin cardiomyopathy at the European Society of Cardiology Congress in Munich.