Greek Stocks Below Pre-Bailout Levels Show Herculean Task Ahead
(Bloomberg) -- Greece may be about to exit the last of three bailout programs, but the country still has a herculean task ahead, if its stock market is any indication.
The Athens Stock Exchange General Index, up 1.5 percent from this year's low on Aug. 16, is more than 60 percent below the level when the first of three aid packages was unveiled in May 2010. While the loans brought the euro back from the brink and staved off a sovereign default, they came with punishing conditions, causing incomes and employment in the country to collapse. Greece's economy has only recently begun to grow again.
The benchmark's five worst performers since the first bailout are banks, all of which have plunged 99 percent or more in the period. While Greece's lenders have received capital injections, concerns over bad loans have crushed valuations, and even passage of a stress test earlier this year hasn't spurred a sector recovery.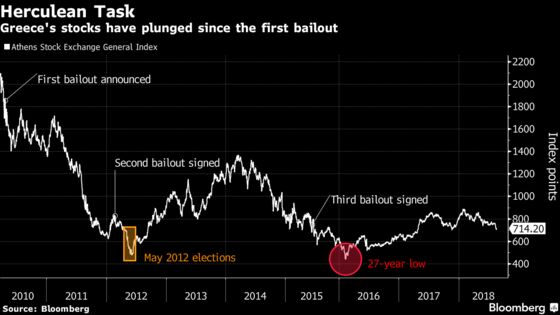 "Greece is better placed now than it has been since the crisis began, but I don't think the task has become any easier," said Dimitri Dardanis, head of institutional trading at Piraeus Securities SA in Athens. "The debt loads are still enormous and the parameters set for their reduction are at the extreme end of probability. And all of this has to take place in a benign environment with no bad external economic disruption."
Greek stocks' trajectory is a history of dashed hopes. While the bailout initially stirred optimism the worst was over, strict requirements, bank recapitalization and political upheaval -- including the election of the left-wing, anti-austerity Syriza -- meant any recovery was short-lived. The currency rout in neighboring Turkey, which is teetering on the edge as U.S. sanctions threaten to bring the country's economy to its knees, adds to external pressures that could hamper Greece's recovery.
Greek economic growth may have accelerated to a more than 10-year high and its current-account deficit has narrowed since the crisis. But equity investors appear skeptical: Since reaching a three-year high in February, Greek shares have lost 20 percent.