There's Not Much Fun in Qutoutiao's Financials
(Bloomberg Opinion) -- Qutoutiao means "fun headlines."
That's the pitch for the latest Chinese internet company seeking to list in the U.S.
Backed by Tencent Holdings Ltd., Shanghai-based Qutoutiao Inc. aggregates news and short videos to create customized feeds in its app. If the name sounds familiar, that's because Beijing Bytedance Technology Co. has a similar product called, funnily enough, Toutiao (full name: Jinri Toutiao). 
Bytedance just had a funding round and is looking at listing at a $45 billion valuation, the Wall Street Journal reported last month. You can imagine that the news made Qutoutiao want to get in first, filing its listing documents before Bytedance sucks up all the oxygen.
A look at its prospectus shows that Qutoutiao's numbers are indeed breathtaking – not necessarily in a good way.
To put it bluntly, they can't scale. 
Revenue climbed from 58 million yuan ($8.8 million) for the whole of 2016 to 718 million yuan in just the first half of this year. But losses also escalated, and they did so at an even faster pace, so that net margin sank from negative 18.7 percent to negative 71.7 percent. Qutoutiao offers adjusted numbers, stripping out share-based compensation, but the trend is just as bad: from -18.1 percent to -45.8 percent.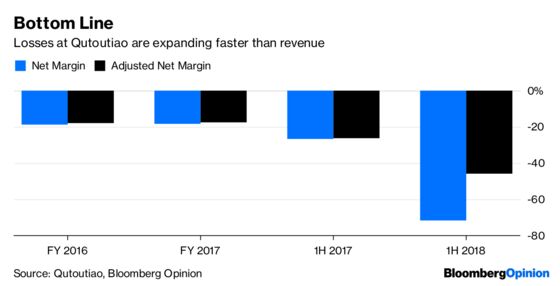 One might expect escalating losses in the course of building a business that will one day be sustainable and profitable. 
Qutoutiao, however, is spending ever more money to attract users for diminishing returns. In the first half of 2017, for example, it forked out 106.3 yuan on sales and marketing for every 100 yuan in revenue, a figure that climbed to 116.6 in the most recent six-month period. The increased cost of procuring customers comes as growth is slowing – whether you measure that by installations, monthly, or daily users.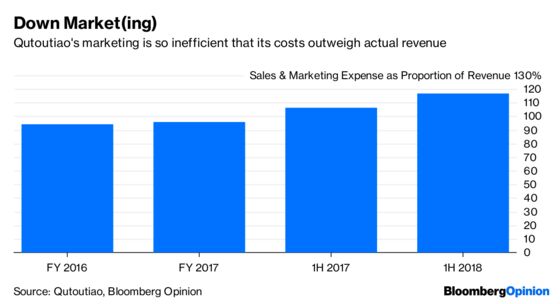 What's more, fewer of the customers that it bought with this rising marketing budget are using the product on a monthly or daily basis. By June, just 9.2 percent of installations were daily active users and only 24.1 percent were even logging on monthly. For a news app, that's got to be a concern.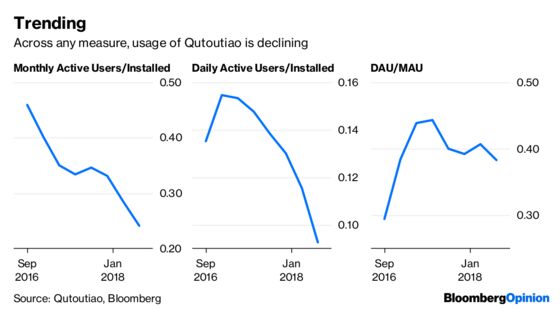 Finally, revenue per user – whether installed, monthly, or daily – dropped in the six months through June compared with the second half of 2017.
For investors considering buying into Qutoutiao, these numbers may be headlines. But they're not fun.
This column does not necessarily reflect the opinion of the editorial board or Bloomberg LP and its owners.
Tim Culpan is a Bloomberg Opinion columnist covering technology. He previously covered technology for Bloomberg News.