Chinese ETF Investors Throw Gold a Lifeline
(Bloomberg) -- Just when you thought investors have given up on gold, the Chinese swooped in.
On Friday, as prices of Shenzhen-listed Bosera Gold Open-End ETF slumped to the lowest since December 2016, the exchange-traded fund attracted $68 million, the most in almost three months. The yuan-priced fund has taken in the equivalent of $1 billion-plus this year, making it the second-most popular ETF backed by a precious metal, behind Frankfurt-listed Xtrackers Physical Gold ETC, according to data compiled by Bloomberg.
Bullion has been shunned by American speculators recently, with money managers boosting their net-short position to a record for a fourth straight week. As a stronger dollar and prospects for rising interest rates turn off U.S. buyers, the trend is turning halfway around the world. Chinese investors are picking up bargains in gold as the yuan weakens, while the Shanghai Composite Index slipped last week to its lowest close since 2016.
"There are limitations in buying properties in China and the equity markets have under-performed, so you're starting to see an increase in appetite to buy gold," Suki Cooper, a precious metals analyst at Standard Chartered Bank, said in a telephone interview. "There are signs of strong demand from China, and ETFs are one of the real-time factors we can track."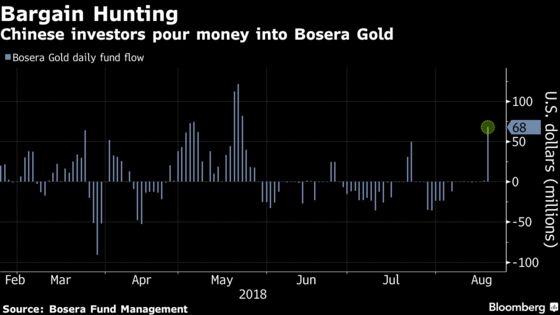 READ MORE:

Funds Have Never Been So Bearish on Gold as Dollar Gains: Chart
Gold Rout Shakes ETFs, Miners Index as Investors Lose Patience
Gold Investors 'Give Up Hope' as Biggest Short in History Builds
Bullion for immediate delivery added 0.5 percent to settle at $1,190.48 an ounce on Monday, according to Bloomberg generic pricing. The precious metal priced in yuan was up 0.2 percent. Its cheaper cousin, silver fell in the spot market, while palladium and platinum rose.
There are also signs that the slump in prices is attracting buyers in India, the largest consumer of gold after China. Indians are paying a higher premium to bring in bullion as dealers replenish their stocks, Commerzbank AG analysts including Eugen Weinberg said in a note.
"They are taking advantage of the low prices –- gold in Indian rupees dropped for a time to an eight-month low last week," the analysts said. "The Swiss gold export data that will be published tomorrow are likely to confirm the increased demand in India and other Asian countries -– premiums have also risen in China, Hong Kong, Singapore and Japan."