Just Another Monday at Tesla
(Bloomberg Opinion) -- When Elon Musk decided to spawn the "funding secured" meme, the prospective buyer was expected to pay merely a 20 percent premium for the privilege of owning … a minority, illiquid stake in an unprofitable company. As of Monday morning, the price of admission was 40 percent.
The $420-a-share figure scrawled on Tesla Inc.'s windshield hasn't changed, but the stock now hovers around $300. Since its intraday peak on Aug. 7, when Musk announced he had a take-private deal in the bag, the company's market value has collapsed by almost $15 billion.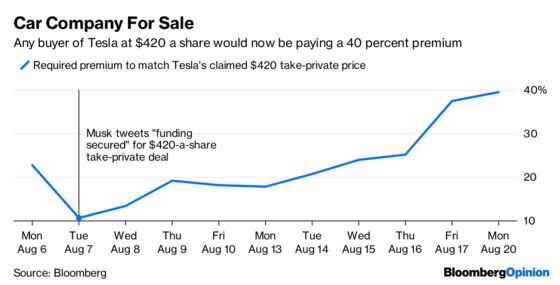 Besides the obvious legal liability that can attach to negative numbers of that magnitude, one of the possible reasons for Monday morning's sell-off was a report over the weekend that Saudi Arabia's sovereign wealth fund is considering investing in Lucid Motors Inc., a startup developing luxury autonomous electric vehicles, also based in the San Francisco Bay Area. There's a term sheet reportedly floating about, according to the Reuters story; though, it's worth pointing out, even that wouldn't constitute "funding secured." But, as I wrote here, the mere fact that Musk based his claim on chats with the fund handed Riyadh a golden opportunity to negotiate via leak, if it so chooses.
This being Tesla in the summer of 2018, the Lucid story wasn't the only reason for the sell-off. After last week's somewhat unsettling interview with the New York Times, Musk was tweeting again over the weekend. This time, in response to Arianna Huffington's apparent concern about his lack of sleep, he said he had no choice, while linking that to the fact that Tesla hasn't gone bankrupt. Reassuring, it is not. Leave aside the contents of the tweet itself, though: Where is the board and why is Musk still tweeting at all?
The other thing weighing on Tesla's stock on Monday morning was a downgrade by J.P Morgan Chase & Co.'s analyst, who slashed his target price from $308 to $195. The analyst had upped his target by the same amount after Musk's initial announcement but, on reflection, now suspects the tweet perhaps overstated things to the tune of $19 billion of notional value.
We are witnessing the downside of Tesla's cult-like status. Belief in Musk's abilities has enabled a critical mass of shareholders to look past repeatedly missed targets, flimsy governance, strategic drift and, of course, the mismatch between Tesla's valuation and its finances. But even the most ardent of Musk's admirers must have felt a twinge of dread over the past week or two as they woke up and scanned the headlines about their favorite CEO and stock.
The Catch-22 they face is that Tesla's valuation has become synonymous with the personality and expansive vision of its co-founder. The new pay package for Musk approved by the board and shareholders earlier this year all but codified this relationship. So even if a new COO-type figure or other supposedly safe pair of hands was brought in — as some now call for — their first order of business would likely be to recapitalize and ditch some of the more ambitious targets around things like electric trucks and maybe even a $35,000 Model 3 appearing anytime soon. And who's going to pay 100 times earnings for that?
There is evidence that some institutional money has started to back away. Two of Tesla's top shareholders, Fidelity and T. Rowe Price, recently reduced their holdings by 6.7 million shares, or almost 23 percent of their total, according to figures compiled by Bloomberg.
Meanwhile, Tesla's 2025 bonds have started to slip again. Excluding small trades, they now yield north of 7.5 percent, up from less than 7 percent a week ago. The risk premium is now close to the peak seen in late May: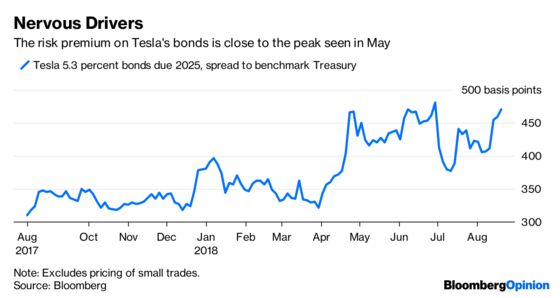 Such nerves are justified. Because, besides the issue of who would actually pay a big premium to own part of Tesla, the bigger question remains unresolved. Why if, as Tesla claims, the company is on the cusp of profitability and positive cash flow, has it felt the need to embark on this bizarre saga in the first place?
This column does not necessarily reflect the opinion of the editorial board or Bloomberg LP and its owners.
Liam Denning is a Bloomberg Opinion columnist covering energy, mining and commodities. He previously was editor of the Wall Street Journal's Heard on the Street column and wrote for the Financial Times' Lex column. He was also an investment banker.