Hedge Funds Short Yen Poised for Pain as Techs Signal Strength
(Bloomberg) -- Dollar-yen is caught in a tug-of-war: on one side is the Japanese currency's status as a global haven. On the other, a widening interest-rate differential with the U.S.
While leveraged funds continue to be bullish the pair, there are signs the yen's role as a refuge is poised to triumph.
The yen has bucked the greenback's advance in recent weeks as a Turkey-induced selloff across emerging markets spurs concern of a broader crisis. That's even as the yield gap between two-year Treasuries and similar-maturity Japanese government bonds continues to expand, hovering near the widest in more than a decade. To make matters worse for speculators, technicals now suggest dollar-yen's slide may just be getting started. MACD momentum indicators are signaling further declines, as is an emerging bear trend line.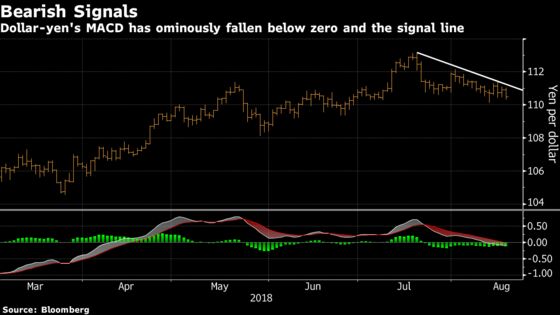 That's bad news for hedge funds that are long dollar-yen by a net 51,155 contracts, according to the latest U.S. Commodity Futures Trading Commission data.
The pair's moving average convergence-divergence indicator, a gauge of momentum used by traders, has dropped below both the so-called signal line and zero -- bearish signs. When it last fell below zero in January, dollar-yen tumbled more than 6 percent over the next 2 1/2 months.
Further supporting a bearish stance is the fact that the currency pair has been unable to breach a downward trendline starting from its recent July 19 high.
Traders pinning their hopes on this week's Japanese inflation data to reverse dollar-yen's downward momentum are likely to be disappointed. Even if another below-consensus consumer-price index print supports wider interest-rate differentials at the margin, recent history has shown that in periods of global risk-aversion, haven flows have emerged as the dominant driver.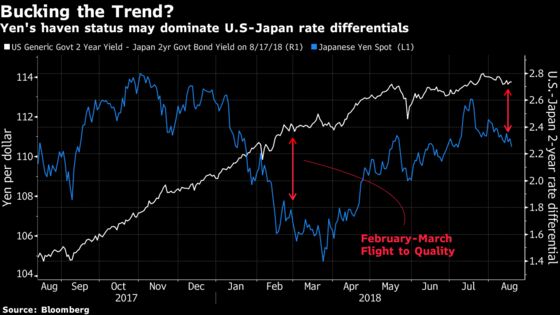 In the first quarter, when concerns over Federal Reserve monetary policy sparked a rush into haven assets, the currency pair fell despite a widening rate differential.
With both the U.S. and Turkey showing little sign of backing down from an escalating diplomatic row that's sent the lira plunging, countries from South Africa to Argentina getting swept up in the contagion and commodities under pressure, a further emerging-market selldown should continue to benefit the Japanese currency.
While dollar-yen is currently holding above initial support around 110.00, it may not stay there for long.
Below are key Asian economic data and events due next week:
Monday, Aug. 20: Thailand 2Q GDP, Philippines BoP overall
Tuesday, Aug. 21: RBA minutes and RBA's Lowe speaks, New Zealand credit card spending, Thailand customs trade balance
Wednesday, Aug. 22: Australia skilled vacancies and 2Q construction work done, RBA's Debelle speaks, New Zealand 2Q retail sales ex-inflation
Thursday, Aug. 23: RBA's Boulton speaks, Japan Nikkei PMI manufacturing, Singapore CPI
Friday, Aug. 24: Japan CPI, New Zealand trade balance, Singapore industrial production, Malaysia CPI