Burned by China Default, Korean Funds Have New Target: Qatar
(Bloomberg) -- South Korea's yield-hungry investors who were spooked by a Chinese default are shifting their sights to the other end of the continent, to the Middle East.
One hot product is short-term securities backed by deposits at Middle East banks. Korean money managers increased such purchases 23 percent in the first half to 10.3 trillion won ($9.2 billion), with Qatar making up the majority, according to data from Korea Investors Service. Meanwhile, investments in products linked to Chinese bank deposits plunged 43 percent to 9.2 trillion won.
A default by China Energy Reserve & Chemicals Group Co. in May ruined demand for Chinese debt among Korean short-term investors such as money market funds, because other bonds from the company had been repackaged into commercial paper sold in the Korean market. Korean investors are looking instead at Middle Eastern bank deposits that typically offer better yields than local or Chinese banks.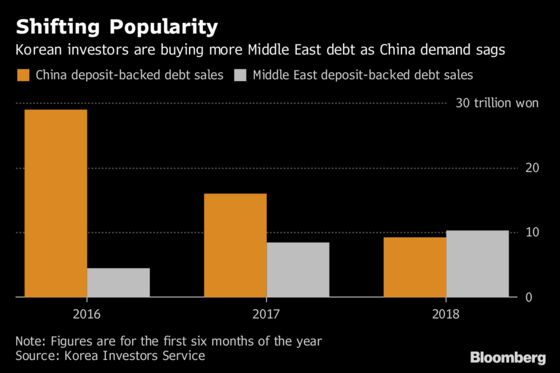 Lenders in Qatar need funding after a Saudi Arabia-led group of nations cut commercial links with the country last year. Moody's Investors Service said risks faced by Qatar include a possible escalation of regional tensions that threaten to disrupt its hydrocarbon exports and pressure the country's finances. It may also get tangled up in Turkey's troubles after pledging $15 billion of direct investment in the country.
Still, Moody's raised Qatar's Aa3 rating outlook to stable from negative last month, saying the country can withstand the economic, financial and diplomatic boycott by three neighboring countries and Egypt.
Middle East deposits "will likely continue to appeal to investors as they're trying to get a bit more yield amid a low interest-rate environment at home," said Kim Sun-ju, a credit analyst at SK Securities Co. in Seoul.
Fitch Ratings said that while Qatar's banking system relies on foreign funding and is exposed to a weak domestic real estate sector, it has remained sufficiently profitable to "absorb foreseeable pressure on funding costs and asset quality," according to a report in June.
The structured products backed by Middle Eastern deposits, sold through special-purpose vehicles created by Korean brokerages, typically mature in six months to a year. They carry yields of about 2.4 percent for those with one-year maturity after hedging for currency moves. That compares with a 1.8 percent yield on similar-maturity won government debt.
Read more: Korean investors shunning Chinese debt may miss out
Qatar National Bank QPSC's deposits accounted for more than half of the deposits, followed by Doha Bank QPSC and Emirates NBD PJSC, according to KIS data. Debt backed by the deposits of Qatar's Al Khalij Commercial Bank PQSC was sold to investors in Korea for the first time this year.
China's financial deleveraging campaign also reduced sales of the nation's deposit-backed debt in South Korea as lenders needed less funding for loans, according to Taewoo Park, a credit analyst at Samsung Securities Co. in Seoul.
"Middle Eastern banks filled the vacuum," he said, adding that while the Turkey move may affect investor sentiment, it's unlikely to develop into a credit issue.