BNP Paribas Sees Profit Revival in Asia's Best Equity Market
(Bloomberg) -- Earnings at companies listed in India, Asia's best-performing stock market this year, can return to 2006 highs if the nation doesn't enact any more "disruptive" economic policies, according to BNP Paribas Asset Management.
"We just need to avoid disruptions to get earnings back," Anand Shah, head of investments at BNP Paribas Asset Management (India) Pvt., said in an interview. "Indian companies' profits have shrunk in the past decade," he said, adding that the 2016 withdrawal of the most valuable bank notes and the introduction of a general services tax in 2017 were among government steps that forced businesses to change the way they operated.
The benchmark S&P BSE Sensex Index has rallied 11 percent this year, boosted by a revival in economic growth and company earnings, according to BNP Paribas's Indian asset-management unit. The advance puts the gauge on course for its first back-to-back double-digit annual gains in eight years.
Shah expects earnings of companies traded on the broader NSE Nifty 50 Index to rise an average 21 percent in the year started April 1 and to about 24 percent in the following period as businesses adjust to policy changes. Analysts project profit growth of about 25 percent for the year ending March 2019, data compiled by Bloomberg show.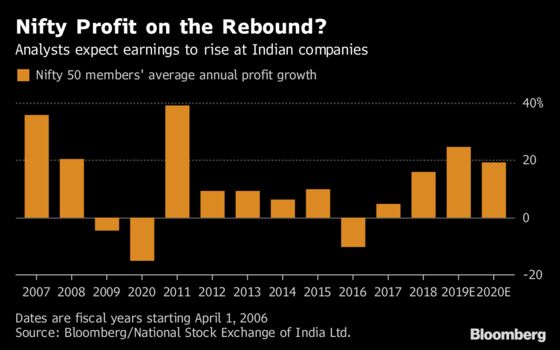 Some Indian companies have grown at a "decent clip" despite policy changes, Shah said. He expects the average profit-to-GDP ratio to widen within four years to nearly 6 percent -- a gap last seen in 2007 -- from the current 3 percent if there are no more shocks to the system.
"We're getting less worse, if not better," Shah said.
His firm expects shares of companies that get most of their sales from India to outperform those dependent on global markets since they're not as exposed to volatility amid an escalating U.S.-China trade war and tighter global money supply.
"Consumer stocks will give good growth and protection against competition through longevity of earnings growth," Shah said.