Being in the Real World Delivers 27% Return for Top Nordic Fund
(Bloomberg) -- A top performing Nordic stock fund makes over 1,000 visits a year to companies and other sites to boost returns.
Being out in the field has helped the SEB Nordic Focus rise 27 percent over the past year, beating 97 percent of its peers, according to data compiled by Bloomberg.
"We not only visit the companies' nice headquarters with their eloquent IR but we try to be out in the real world, visiting the plants, distributors, customers, suppliers, industry consultants, authorities etc...," Tommi Saukkoriipi, lead portfolio manager, said by phone on Tuesday. "This has often provided a more complete picture, especially when the work is done systematically over a longer period by experienced portfolio managers."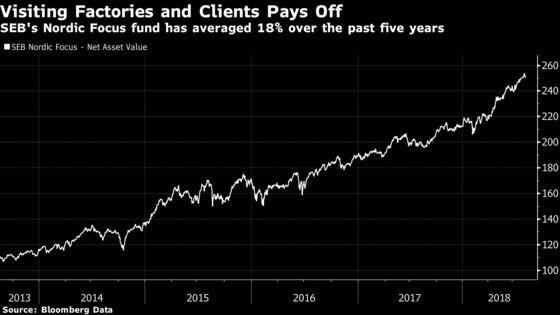 Saukkoriipi and four other managers independently pick their five favorite stocks in the Danish, Finnish, Norwegian and Swedish markets to arrive at 10 Swedish stocks and five each from Denmark, Finland and Norway.
The fund invests in "quality companies" with long-term potential in the share price. Some of its biggest holdings are Tomra Systems ASA, Investor AB and Subsea 7 SA.
"We like Investor as an undervalued company -- a holding company that is traded at an undeservedly big discount given their unlisted holdings and lower management costs," said Saukkoriipi, who oversees about 12 billion kronor ($1.3 billion).
The fund is avoiding some of the biggest retail companies in the region, selling its stake in Pandora A/S after the share pared losses following Chief Executive Officer Anders Colding Friis' announcement that he'll step down.
"It's time for the business model to prove itself, considering limping growth and all the sales, but the CEO change apparently at least made some short sellers take profits," he said.
The fund is also shunning Hennes & Mauritz AB as the fashion chain is "struggling with the transition to online," Saukkoriipi said.
"We thought they would handle it better considering their economies of scale," he said. "It's clear that the heritage of ordinary offline shops isn't that easy to handle."