Bearish Bets Pile Up Against China Evergrande
(Bloomberg) -- China Evergrande Group looks like a company with no shortage of good news as earnings soar and the board unveiled a special dividend Monday. But bearish bets on the developer are at a two-year high.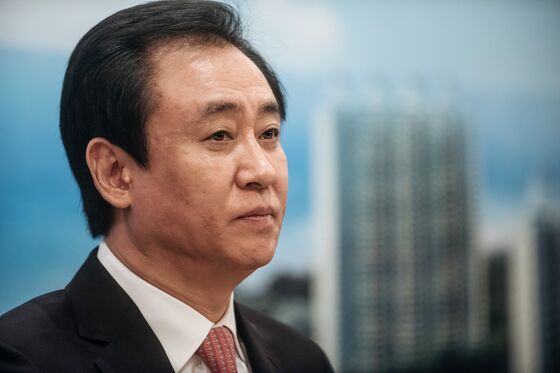 Skepticism about Evergrande's debt-fueled business model and wider concerns about the property industry and China's slowing economy may be driving the shorts, said Nigel Stevenson, an analyst in Hong Kong at GMT Research Ltd. A small free float, limiting the scope for more price-boosting buybacks under stock exchange rules, may also lure bears, he said.
"It's hugely risky to bet against Evergrande," said Stevenson.
Evergrande proposed a dividend of 1.13 yuan per share for the 2016 and 2017 financial years in an exchange filing after market Monday. That would be a total of 14.7 billion yuan ($2.1 billion), which would translate to a 50 percent payout of profit attributable to shareholders, according CGS-CIMB Securities Ltd. analysts led by Raymond Cheng.
It also means 11.5 billion yuan for billionaire Hui Ka Yan, who owns about 78 percent of the company. The special dividend is pending shareholder approval at an extraordinary general meeting next month. If approved, payment is expected on Oct. 19.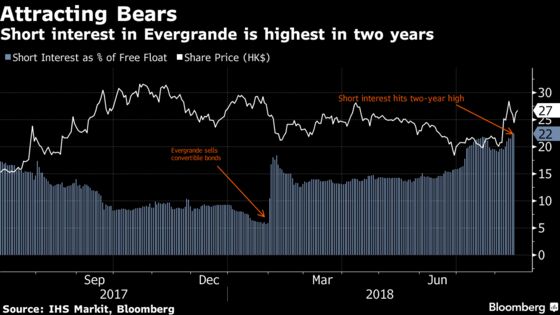 The bulls' case for Hui's firm, which just became the biggest Chinese developer by market value, includes an estimated doubling of core profit in the first half. Sales have remained robust this year and leverage is down from past levels. The company's first-half result is due Aug. 28.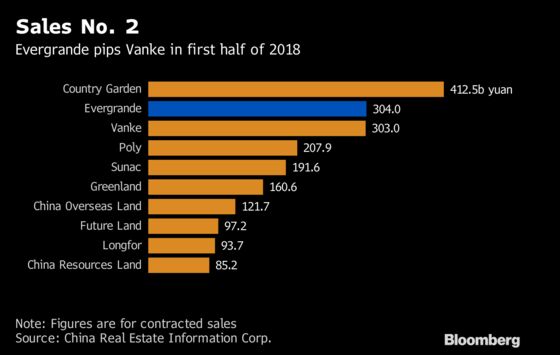 Evergrande's stock more than quintupled last year, earning the title of the world's most painful short, before sliding in 2018. It closed 4.5 percent higher on Monday bringing year-to-date gains to 3.9 percent. In evidence of ongoing volatility, the shares surged as much as 27.5 percent during a single day this month, after a profit alert.
In the past, share purchases by Evergrande and ally Chinese Estates Holdings Ltd. have helped to fend off short sellers. The increase in short interest as a proportion of the firm's free float, which rose last week to the highest since March 2016 and has jumped 31 percent by volume since July, partly results from buybacks shrinking the pool of shares.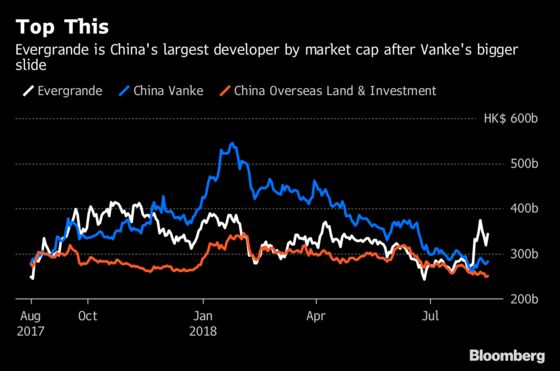 Read more: Evergrande's $4.5 billion potential payout in focus
Read more: Watching the clock for Evergrande shares to pop as buybacks rule