Gold Will Fight Back Dollar for Haven Status, Sprott Says
(Bloomberg) -- Don't write off gold in the battle of the havens.
Bullion has lost out in a paradigm shift where the metal's no longer viewed as the traditional refuge when investors are in a risk-off mood, but that won't last, according to Rick Rule, chief executive officer of Sprott U.S. Holdings Inc.
Investors are favoring U.S. Treasuries, and that's seen the dollar get stronger, Rule said in an interview from Vancouver Wednesday. But the greenback's strength is relative, not absolute, and the overwhelming faith that the global saver has placed in the U.S. currency is "probably partly misplaced," he said.
"It used to be that investors looked much more broadly at a basket of currencies when valuing gold," said Rule, 65, who's been involved in the market for four decades. "It seems now that the dollar really has obtained hegemony, and the consequence of that is that the fight really does seem to be between the dollar and gold, and gold seems to be losing. I don't think that that continues, but I can't tell you when that changes."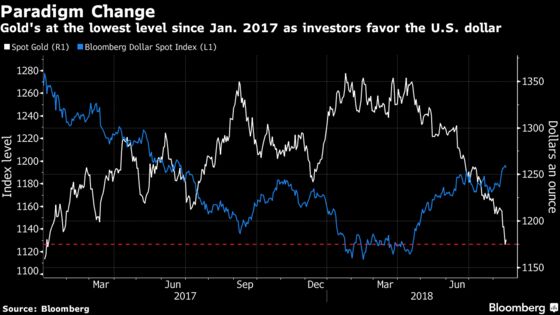 Bullion has slumped to the lowest since January 2017 and is set for a fifth month of losses as investors flee to the dollar amid trade tensions, emerging market turmoil and a Turkish financial crisis. A hawkish Federal Reserve and buoyant U.S. equities have also boosted the greenback, now near a 14-month high.
"The world, to some degree, has been quite used to bad news," Richard Hayes, the chief executive officer of Australia's Perth Mint. "If you were to go back seven or eight years, any one of the trade wars, or what's happening in the Middle East, or China, Brexit, the rise of the far left and far right, any one of those events would have been enough to make a fairly significant impact on volatility of prices of precious metals."
Simona Gambarini, an economist at Capital Economics Ltd., cited other periods of turmoil when gold failed to attract haven demand. During the last global financial crisis, she said, the price of the metal started to rally only toward the end of 2008.
"Gold has not tended to behave like a safe-haven asset in the past during times of stress when the dollar has appreciated at the same time," Gambarini said in a note to clients emailed on Aug. 14. "During the Asian crisis, investors fleeing developing countries did not seek the safety of gold either."
Still, Hayes remained optimistic of gold's potential for a rebound, citing rising global debt. Perth Mint Physical Gold ETF, the first with bullion holdings guaranteed by a sovereign entity, started trading in New York on Wednesday.
U.S. government debt has more than tripled since 2007, while tax cuts and new federal spending have fueled a budget deficit that the Congressional Budget Office predicts will reach $1 trillion in 2020. With the Federal Reserve winding down debt holdings, U.S. note and bond sales have risen to levels last seen in the aftermath of the recession that ended in 2009.
Rule holds physical gold in his personal portfolio as a form of insurance. He still sees gold reaching $1,400 an ounce, a level he forecast earlier this year, but refrained from giving a time frame. Spot gold rose 0.4 percent to $1,179 an ounce at 2:14 p.m. on Friday in New York.
Sprott U.S. Holdings is a subsidiary of Toronto-based Sprott Inc., a precious-metals focused money manager with assets of about C$11 billion ($8.4 billion) as of June 30.