Solid Earnings May Not Be Enough for Rebound in Europe's Stocks
(Bloomberg) -- European companies posted improved second-quarter results, but that might not be enough to spur a market turnaround.
While profit expectations over the next 12 months are still rising, the Stoxx Europe 600's price-to-earnings ratio has fallen near a two-year low as investor confidence weakens. Various headwinds loom, including Italian budget risks, German elections as well as the specter of higher tariffs, which may hit European exporters.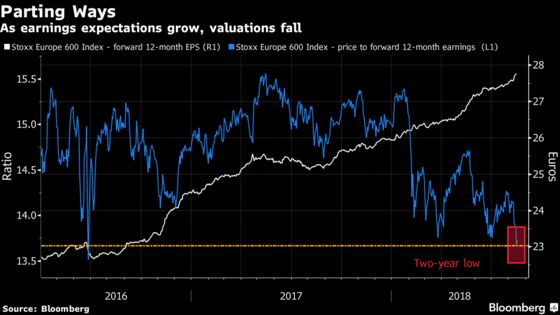 "We've seen the best of the European earnings growth for the year," said Benjamin Jones, senior market strategist at State Street Global Markets in London. "We also have to factor in European politics which are still in a fragile state."
While Morgan Stanley still expects solid earnings growth this year in Europe, it sees valuations retreating to near their long-term average, the bank's strategists wrote in a note this week. They cited global monetary tightening, Italian political uncertainties and an escalation in trade conflicts as reasons for their view.
These threats may be overshadowing a positive European earnings season. Profits increased 10.5 percent in the second quarter, with about 54 percent of stocks beating expectations, according to Bloomberg Intelligence. Yet market reaction has been muted: shares of reporting companies have slipped on average 0.2 percent within a day of earnings releases, BI said. Profits are also projected to rise more slowly for the rest of the year, before the pace picks up in 2019, according to estimates compiled by Bloomberg.
But there are political dangers aplenty. Italy's new populist government is set to unveil a fiscally aggressive budget that may fuel concerns over debt sustainability. In Germany, Bavarian elections to be held in October could end up shattering Chancellor Angela Merkel's conservative block and consequently the current governing coalition.
"With the earnings season behind us, this tailwind is fading," NN Investment Partners strategists led by head of multi asset Ewout van Schaick wrote in a note. "Political risks in Italy may continue to weigh on the region even if a compromise acceptable to the EU is eventually found."