China's Lack of Overseas Acquisitions One Less Headache for Yuan
(Bloomberg) -- When the yuan slid like this a couple of years ago, China used a different kind of policy tool to stem the decline - it stopped companies from making overseas acquisitions. This time around, the dwindling number of deals means such unorthodox measures are less likely.
A 6 percent decline in the currency in 2016 led to M&A curbs, with 40 transactions announced that year worth $31.8 billion subsequently canceled, according to data compiled by Bloomberg. Just five acquisitions with a value of $719 million have been terminated this year, and the yuan is down a similar amount.
While the terminations weren't all necessarily because of Chinese government intervention, they do represent a proxy for limits on acquisitions. Companies need to seek approval for reaching a deal, so it's likely other transactions were blocked before getting to the announcement stage.
"The nature of capital flows is much more balanced in 2018 than 2015," said Eric Robertsen, Singapore-based global head of foreign exchange, rates and credit research at Standard Chartered Plc. "To the extent that there is outbound M&A, it will have less of an impact today than it did three years ago. So there is less of a need for Chinese policy makers to block outbound capital flows, including M&A."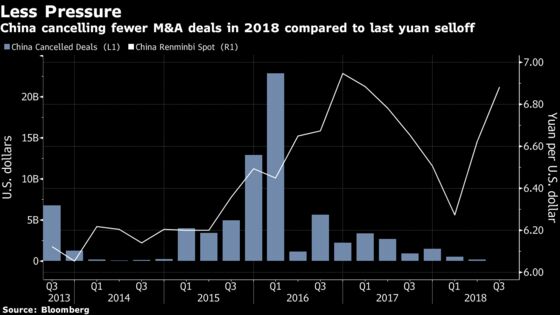 Lingering effects from the 2016 restrictions, heightened sensitivities abroad about Chinese investments and a change in focus to the domestic market have led to a decrease in acquisitions. This suggests less pressure on China to reintroduce curbs and less of a potential impact on the beleaguered currency even if they chose to do so.
Still, officials are focused on avoiding the capital outflows of 2015-16 that ended up draining China's foreign-exchange reserves by almost a trillion dollars as it fought to support the currency.
This year's deal activity is on track to fall short of 2016's bonanza. Transactions worth $120 billion have been completed or are currently outstanding year-to-date, compared to $242 billion in 2016, according to data compiled by Bloomberg.
"While deals aren't necessarily being withdrawn like in the past, fewer are crossing the finishing line," said Mayooran Elalingam, head of Asia-Pacific M&A at Deutsche Bank AG. "We don't see deals being publicly opposed, but there appears to be some reluctance among state-owned-enterprises to pursue large scale M&A given the current yuan weakness and geopolitically sensitive environment."
Sellers are also more cautious because of the difficulties faced in gaining regulatory approvals in China, according to Elalingam. Pushing back against such deals are governments including the U.S., which is embroiled in a trade war with the country, and more recently Germany, which this month blocked a possible Chinese acquisition for the first time.
Meanwhile, the reduced number of Chinese acquirers using onshore funding means the potential impact of deal flow on the yuan is less than before, according to Alicia Garcia Herrero, chief economist for Asia Pacific at Natixis SA in Hong Kong.
"An increasing number is conducted from Chinese subsidiaries overseas," she said. As far as disposals by companies that had previously built up assets, "amounts are small compared to the depth of forex markets but they can affect expectations about the future of China's economy, a much more important channel."
The Chinese government has introduced a number of steps to stem the slide in its currency this year, including a 20 percent reserve requirement on foreign-exchange forwards and urging banks to avoid "herd behavior."
Still, the yuan has fallen over seven percent in the last three months on concerns over the escalating trade war and slowing economic growth in the world's second largest economy. Mergers and acquisitions just haven't been a key factor this time around, according to Australia & New Zealand Banking Group Ltd.
A lot of outbound deals took place following the yuan devaluation in mid-2015, which may have acted as the motivation for some transactions, said Irene Cheung, senior FX strategist for Asia. "It could have accentuated the fall," she said. "The impact on the yuan will be less this time because there are fewer M&A deals."