China Fears Trump Wants a New Cold War
Donald Trump is being taken very seriously in Beijing.
China's capital is gripped by an urgent debate about what is seen as the hidden motive for Washington's escalating trade war: a grand strategy, devised and led by the U.S. president, to thwart China's rise as a global power. As Bloomberg News reports, there's growing concern the two nations may be heading into a new Cold War.
While lower-level trade talks are set to resume this month, Trump has already tamped down expectations of a breakthrough. Chinese officials "just are not able to give us an agreement that is acceptable," he says.
President Xi Jinping's administration has moved to contain any economic fallout. China appeared to be halting the recent slide in its currency, with the offshore yuan surging today by the most since January 2017.
And despite the Cold War talk in Beijing, there is still general confidence that Xi can outlast Trump in a test of wills.
"Mr. Trump put a knife on our neck," says Lu Xiang, an expert in bilateral ties at the government-run Chinese Academy of Social Sciences.  "We will never surrender."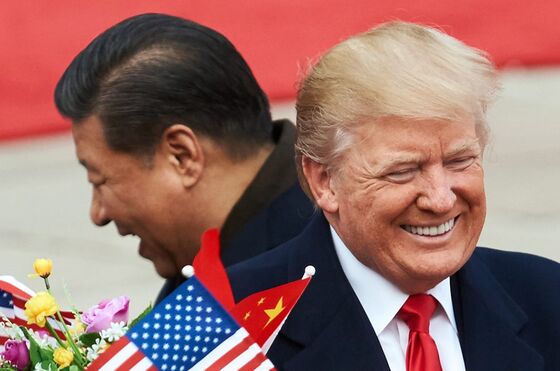 Rare invitation | Angela Merkel hosts Vladimir Putin tomorrow for their first bilateral meeting in Germany since 2013. Trump's attacks on a gas-pipeline project between Russia and Germany, as well as tensions with the U.S. over trade and the Iranian nuclear deal, are pushing Merkel and Putin together despite differences over Syria and Ukraine. The meeting helps end Putin's isolation after his 2014 annexation of Crimea, while reaffirming Merkel's leadership role in Europe.
Judgment day | A Turkish appeals court is set to rule by Saturday on a bid by Andrew Brunson's lawyer to release him. U.S. Treasury Secretary Steven Mnuchin yesterday urged President Recep Tayyip Erdogan's government to free the American pastor or face more sanctions. After stabilizing its currency and staving off a full-blown crisis, Turkey now faces the prospect of renewed turmoil.
Cracks in Rome | This week's collapse of a 50-year-old highway bridge in northern Italy has highlighted tensions roiling the governing populist coalition. Though it's found compromises on a range of issues since taking power in June, the reaction to the disaster shows infrastructure may be tougher. Five Star's environmentalist base opposes the type of major energy and transportation projects that businessmen backing the League support.
South African populism | Economic Freedom Fighters leader Julius Malema has proposed an amendment to make the central bank state-owned, after his call for the expropriation of land without compensation, a policy President Cyril Ramaphosa's government now says it will pursue. It's another example of Malema using the ruling African National Congress's concern about losing power in next year's general elections to push it to the left.
Venezuela plot | Details of the most serious attempt in five years to overthrow President Nicolas Maduro – a drone attack during a military parade two weeks ago – are emerging. Andrew Rosati and Ethan Bronner report that more than one group of dissidents may have discussed the assassination bid, with financing from a Venezuelan in Miami linked to a 2017 attack on an army base. For now, the government seems to be pursuing opponents who may have had nothing to do with it.
Former cricket star Imran Khan faces a parliamentary vote today to secure Pakistan's premiership. If he wins – and he's expected to – he'll be sworn in on Saturday.

Slovenian lawmakers are poised to approve election runner-up Marjan Sarec as prime minister, denying power to the populist winner of an inconclusive June ballot and breaking a two-month political deadlock.
And Finally.... Aretha Franklin's death at the age of 76 drew unusual unity in praise for the woman known as America's "Queen of Soul," ranging from former President Barack Obama to Trump. Mixing the fervor of gospel and the passion of romance, Franklin emerged in the 1960s as one of the nation's greatest singers. She performed at Obama's first inauguration and brought him to tears at the Kennedy Center Honors six years later. Obama and his wife Michelle issued a statement saying Franklin's voice offered "a glimpse of the divine."